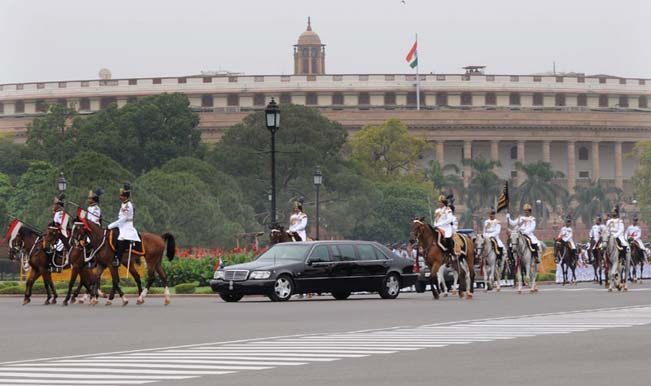 New Delhi, June 9: President Pranab Mukherjee on Monday said containing food inflation will be the topmost priority of the government.
Addressing the Joint Sitting of Parliament on Monday, the President said new MPs represent hopes, aspirations and dreams of the people. Listing the priorities of Narendra Modi led NDA government, he said govt will try to end rural-urban divide and is committed to reverse trend of hopelessness among farmers that leads to suicides.
"We express solidarity with the families of those who lost their lives during the election. Electorate cast aside boundaries of caste, creed, region and religion and voted for development, good governance and stability," he said adding, greatest challenge is to end the curse of poverty.
Stating that 'Ek Bharat, Shreshtha Bharat', the President said government will set up IITs and IIMs in every state. The government will popularise sports and will launch National Sports Talent Search System. The govt is committed to provide water security and will launch Pradhan Mantri Krishi Sinchai Yojana.
Govt will have a policy of 'zero tolerance' for violence against women and will strengthen criminal justice system. A new health policy will be formulated and national health insurance mission will be rolled out. He said govt will give 33 per cent reservation to women in Parliament and legislative assemblies.