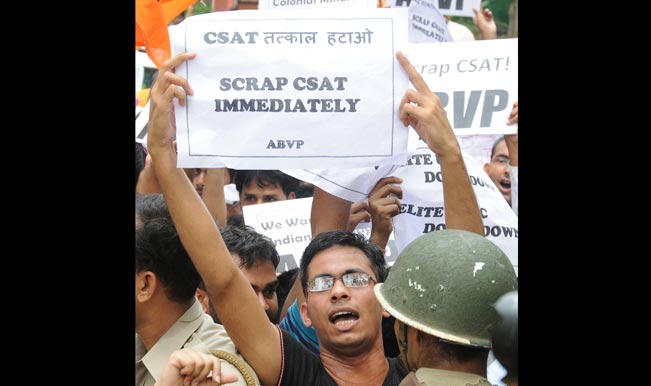 New Delhi, July 25: Opposition parties today attacked the Centre over the UPSC row and said the admit cards for the CSAT examination should be revoked until the issue is resolved.
"UPSC has already issued admit cards. In the next three days, the situation will become worrisome. The government cannot walk on two separate paths," JD(U) president Sharad Yadav said, adding that the admit cards should be revoked until the three-member committee submits its report on the issue and a decision is taken.
Congress said the government should show seriousness about resolving the issue and added that the party is ready to take up the fight on behalf of UPSC aspirants both inside Parliament and outside.
"My sympathy is with the students who are talented and come from Hindi medium. The Centre and UPSC should seriously think about it. There should be no compromise on quality.
Congress is ready to fight their battle inside Parliament and outside," said Congress MP and AICC General Secretary Digvijay Singh.
Aam Aadmi Party, too, said that it backs the demands of the protesting students.
AAP leader Arvind Kejriwal charged that the "Centre kept sleeping on the UPSC issue and allowed the situation to get out of control".
"Police should stop beating the protesting UPSC students. Their demands are genuine. AAP supports their demands," Kejriwal said in a tweet.
BSP said the government should seek a solution at the earliest.
"This issue has been raised before in both Houses of Parliament. The Centre has said it will seek a solution, but until now, no solution has been sought and our party strongly disapproves of it," said BSP supremo Mayawati.
BJP, meanwhile, hit back at Congress for its criticism.
"The (three-member) committee was formed by the previous UPA government. Now that they (Congress) are in the opposition, they are blaming us for the mess. In fact, we are trying to find a solution to this," said the Minister of State in the PMO, Jitendra Singh.
UPSC aspirants are protesting against the pattern of the Civil Services Aptitude Test (CSAT) which they believe gives an unfair advantage to English-speaking students while leaving candidates from Hindi or regional languages-background at a disadvantage. They want the CSAT to be scrapped.
Protests have intensified after Union Public Service Commission (UPSC) issued admit cards yesterday for the preliminary entrance exam scheduled for August 24.