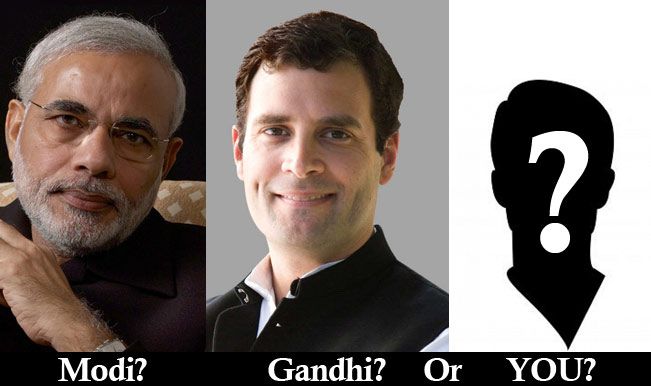 Who will be the next Prime Minister of India? Rahul Gandhi, Narendra Modi or you?
We've been always led to believe that politics is for either the elite from ruling dynasties or the thugs, there's no place for the common man in politics.  All that changed one year ago when Kejriwal decided to splinter from his mentor Anna Hazare and launch the Aam Aadmi Party (AAP). Promising to clean up the muck with the proverbial broom, the Aam Aadmi Party won 28 seats in Delhi and after a shotgun arrangement with Congress; Kejriwal became the Chief Minister of Delhi. And the CM moved fast, first sticking to his promise of proving 700 litres free water to Delhi residents followed by lowering the power tariff. Emboldened by their showing, the AAP have decided to contest for 300 seats instead of the chosen 100 and have asked for applications online. Imagine, you can sign up to fight the Lok Sabha elections online! Tickets that were handed down from one generation to another in a family or to local goons for following orders are now open to you!
How to contest elections as an AAP member?
The AAP follows stringent rules in selecting its candidates and the form on the website asks some basic questions like name, gender, education and occupation! They also want to know:
Your previous agitation history
Your history in any social or revolutionary organisation;
Your source of income and total value of your property
Why you want to contest the elections;
Why you should be selected
What your reaction will be if you are not selected (will you join another party or contest as an independent candidate)
Also there are several essay-style questions which ask you about your views about Kejriwal's book Swaraj (we hope that you don't need to hero-worship Kejriwal to contest elections), your strategy to win the elections and also the expenses you will incur. The party's also asking how many supporters you can muster who aren't already party members. The final catch is that you need to get signatures from 100 proposed voters from your assembly constituency. Also those you who are already salivating at the prospect of lording it in the Parliament should realise that Aam Aadmi membership comes with several riders.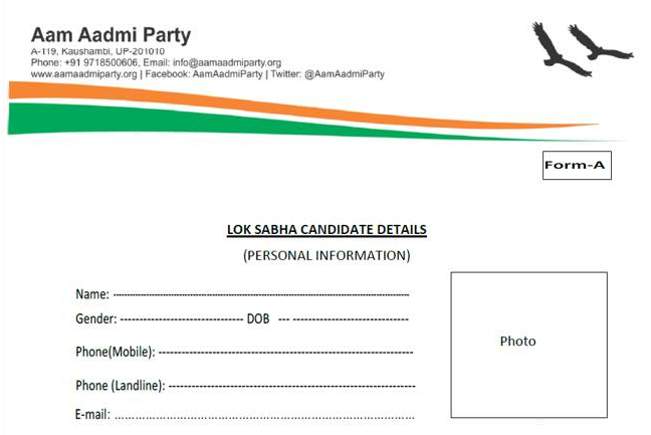 You must pledge to do the following:
1. I will not take Red Beacon Car.
2. I'll not take any unnecessary security. Security should be dedicated for Aam Aadmi & not for their chosen candidate. Leader should not take any security more than awaited to Aam Aadmi.
3. I'll not take any big bungalow & shall live like any other member of the society.
4. I agree with the concept of Swaraj & that governance should be directly in the hands of public & not in their chosen representatives. I'll give my full efforts to bring such a law but till time such law is not passed, all the work in local area shall be done in consultation with the local public.
5. I'm committed towards Janlokpal bill & Electoral reforms. I'll put my full efforts to bring such law/s at the earliest.
6. Govt should not acquire any land without the permission of public. I'll put my full efforts to bring such law/s at the earliest.
7. I have gone through the ideology & principals of Aam Aadmi Party and have also understood the same & fully believe in it. I have also read the candidate selection process & fully agree with the same.
So people, are you game? Want to sit in the Lok Sabha next year? Be the next Prime Minister of India? It's feasible if AAP wins 272 seats. Of course, you'd probably need to convince Mr Kejriwal you'd make a better PM than him!