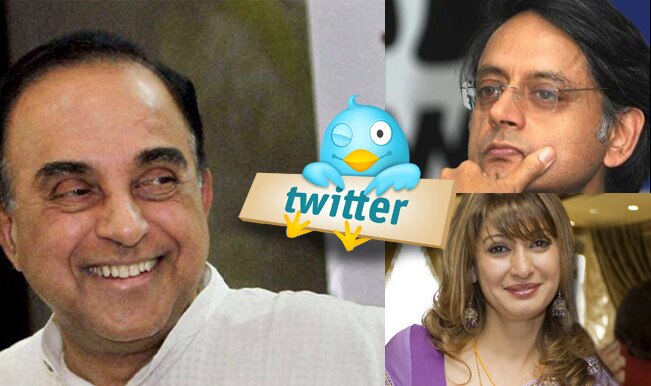 Senior Bharatiya Janata Party (BJP) leader Dr Subramanian Swamy has let out another war-cry against the Indian National Congress (INC) party. Often termed as 'loose cannon' by his opponents, Dr Swamy has single-handedly managed to beset the Gandhi family in the past decade. Dr Swamy has made a shocking revelation on Twitter regarding the murder – as he says – of Sunanda Pushkar, wife of former Human Resource Development Minister Shashi Tharoor. In his latest political endeavour Dr Swamy has officially announced that he will file a Public Interest Litigation (PIL) on the suspicion of foul play in Pushkar's death. Dr Swamy's tweet read:
Will file the PIL on Sunanda murder next week

— Subramanian Swamy (@Swamy39) July 23, 2014
Dr Subramanian Swamy has termed Sunanda Pushkar's death as murder since the event took place and the doctors at AIIMS declared it as unnatural death. Dr Swamy had alleged that Pushkar was killed using some Russian poison. The scars found on Pushkar's body in the post-mortem report further helped his charges. Dr Swamy alleged that in order to prevent Sunanda Pushkar from exposing the underworld links and illegal money laundering in the high-profile cricket league Indian Premier League (IPL), she was put to rest by the Dubai Mafia.
A day after her altercation with Pakistan journalist Mehr Tarar on Twitter, Sunanda Pushkar was found dead in her room of The Leela Palace Hotel in New Delhi on 17th January this year.
The initial reports suggested that Sunanda Pushkar died of drug overdose, but the scars on her body in later reports proved these wild allegations as serious charges. A controversial statement by Dr Sudhir Gupta, Head of Forensic Sciences at AIIMS claimed that he was pressurised to give a false report in Sunanda Pushkar death's case. Dr Gupta alleged that he was asked by then Union Minister Ghulam Nabi Azad to act unprofessionally and cover up the whole fiasco.
If any truth is found in the Supreme Court-monitored investigation, it is sure going to rattle the Congress party furthermore. The alarm bells for Shashi Tharoor and Ghulam Nabi Azad are already ringing!