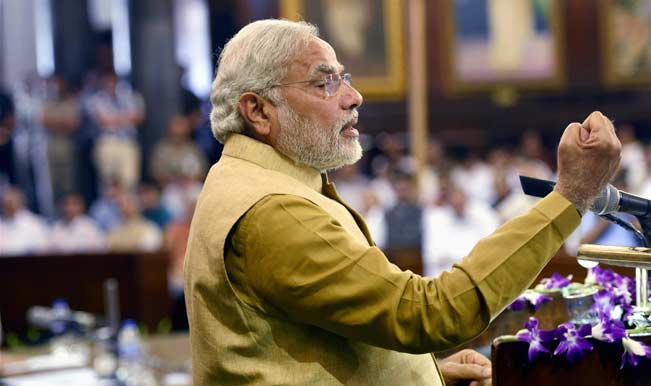 Finally some positivity is in the air after months of blame game among the political parties during the Lok Sabha Elections. The array of personal attacks has come to a halt as of now. Narendra Modi has successfully been able to shut the mouth of his critics and the only statements coming out from all around now are about high expectations and the way he will cure the long existing ills of the country. All the latest developments in the Indian polity are giving positive indications that after the formation of the new government with a self sufficient clear mandate, people will get to see some good work.
The best thing is that our soon to be Prime Minister Narendra Modi is still communicating with the people which shows that he actually stands by what all he has promised to the electorates during his election campaigning.
All eyes are set on what will be his first move after he joins PMO after his swearing-in function. All the SAARC countries have been invited by the BJP to attend the swearing in ceremony of Modi which again is considered as one of the positive steps to boost India's relationship with its neighbours particularly Pakistan.
Pak PM Nawaz Sharif was one of the first to congratulate Narendra Modi on his historic win and he has also been invited to attend the ceremony. Experts are hoping that this kind of communication will help make the relationships between the two countries better and more friendly.
Moreover Mr. Modi, addressing his party MPs at the town hall in parliament said that his government will be dedicated to the poor, farmers and those who have been left behind in the race of development. Again this is a good thing that he has been continuously talking about – the issue of poverty while seeking votes in his rallies and after victory he did not forget to address the issue as one of his first and the foremost priority.
When Modi went to Varanasi after his victory, addressing the people there he did not forget to discuss about the problem of Ganga. He talked about the over all sanitation of the temple town and even appealed people to cooperate with the government in making Varanasi a better place to visit.
With all these positive things happening even before he joins the office after he is sworn-in, the expectations and hopes among the people are at the peak.
How does he carry forward this huge burden of responsibility with so much of expectations and hopes of more than a billion people will be worth watching. Meanwhile all his opponents are sitting peacefully, either analysing their own defeat or eagerly waiting for the start of Modi government so that they are back to business, yet again to attack and try to disrupt the Modi caravan.