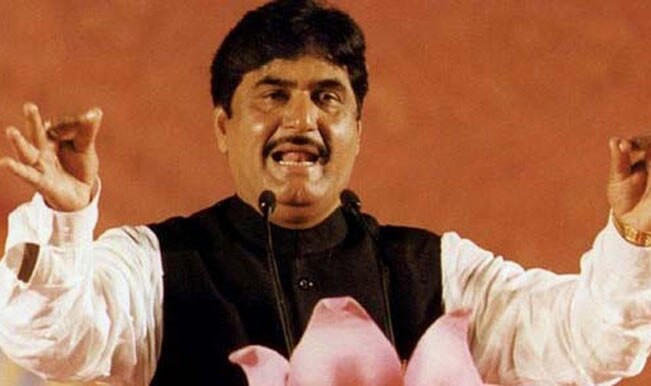 Newly elected Union Minister for Rural Development, Gopinath Munde's first national stint was tragically cut-short by a road accident in New Delhi, early morning today. The funeral of the Union Rural Development minister will be held on Wednesday in his native village in Beed district, Maharashtra. Munde, 64-year-old, was a prominent OBC face of Bharatiya Janata Party (BJP) in Maharashtra.
Gopinath Munde's body has been taken to the party's headquarters; where his family members are to arrive shortly. Prime Minister Narendra Modi and party leaders and workers will pay tribute to Gopinath Munde in the BJP's head quarters situated at 11, Ashoka Road, New Delhi. The Press Information Bureau tweeted:
National Flag to fly at half mast today as a mark of respect to the departed dignitary, Shri Gopinath Munde http://t.co/kbAXtknfOJ

— PIB India (@PIB_India) June 3, 2014
Gopinath Munde's cremation is slated to happen tomorrow in his native Parli village in Beed district. After the public tribute the Union Minister's body will then be taken to Latur Airport, from where it will taken to his village for performing the last rites.
In a shocking early morning road accident today, Gopinath Munde was on his way to Indira Gandhi International (IGI) airport. Munde was to return to Mumbai after BJP's meeting in New Delhi. The accident happened at Aurobindo Marg, South Delhi. Munde was soon rushed to the AIIMS trauma centre where he succumbed to his injuries.
At the time of the accident, Gopinath Munde was said to be alone on his car's back seat. Munde also asked for water from his security guard Nair. In his semi-conscious state, he directed him to drive the car to the hospital. Munde at 6.30 a.m. was admitted in trauma centre. Munde was declared dead by the doctors at 7.20 a.m. The only sign of an external injury was a bruised nose. Doctors said that Munde died of internal injuries; the post mortem reports are awaited.
Timeline:
0600 hours : Gopinath Munde starts from his house to reach the Indira Gandhi International Airport.
0620 hours : Munde's Maruti Suzuki SX4 car hit by a Tata Indica at Aurobindo Marg in South Delhi, from the side where he was seated.
0630 hours : Admitted to Jai Prakash Narayan Apex Trauma Centre at AIIMS by his security guard Nair.
0720 hours : The doctors declare Munde dead of internal injuries.
0845 hours : Nitin Gadkari, Senior BJP leader, addresses media about his death.
1600 hours : Union cabinet to meet to his sad demise.
Gopinath Munde was to attend several public functions in his constituency Beed later in the evening. Munde was visiting his district for the first time after winning handsomely in the recently concluded Lok Sabha Elections.