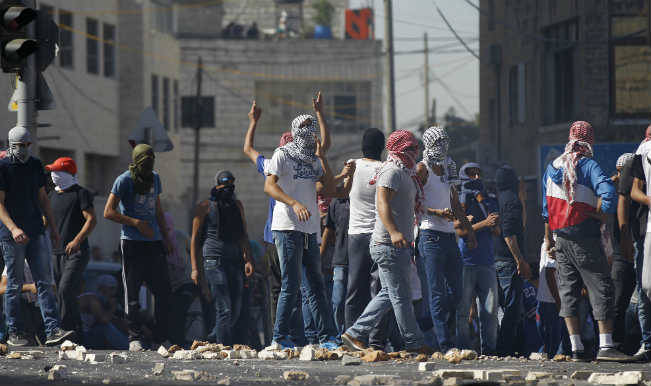 New Delhi, July 16 : The government Wednesday refused to discuss the Israel-Palestine conflict in the Rajya Sabha, saying "no discourteous reference should be made to a friendly nation", adding "we have friendly relations with both the countries". A discussion on the violence in the Gaza Strip and West Bank areas of Palestine was listed in the upper house's list of business Wednesday.
According to members, it was agreed that the discussion would be taken up soon after the question hour. However, External Affairs Minister Sushma Swaraj said she was not aware the discussion was listed untill she saw the business list for the day. "I have written to the chairman (M. Hamid Ansari) on this issue," Sushma Swaraj said. "I have quoted a rule that says no discourteous reference should be made to a friendly nation. We have friendly relations with both the countries, and any discussion in this house can effect relations with those countries," she said.
Opposition parties, however, objected to it, saying a debate already listed is a property of the house. "The government cannot change the list of business. It is a property of the house. The government is setting a wrong precedence," Congress leader Satyavrat Chaturvedi said. Janata Dal-United leader K.C. Tyagi pointed out that similar resolutions on situation in other countries have been adopted in past.
Deputy Chairman P.J. Kurien said since the matter has been submitted to the chairman, a decision will be taken by him. Opposition members refused to accept this and created a din, forcing the house to be adjourned first for 15 minutes and then till 2 p.m. As the house assembled again, the external affairs minister clarified a debate on the issue was not taken up in the Lok Sabha either as the notice was rejected.
Communist Party of India-Marxist (CPI-M) leader Sitaram Yechury, however, said even the chairman cannot disallow a discussion once it has been listed. "Even the chairman cannot disallow the discussion. The list of business is a property of the house," Yechury said. But the government refused to relent, and Kurien said the chair needed more time to take a decision.
"Such a situation has no precendence," Kurien said, pointing out that the government is refusing to reply to the debate. "These are matters to be looked into on the basis of rule books and constitutions. We as chair need little more time to give a ruling," Kurien said. The opposition, however, continued to create a din over the issue, and refused to take up the discussion on railway budget. The chair then adjourned the house till 3 p.m.