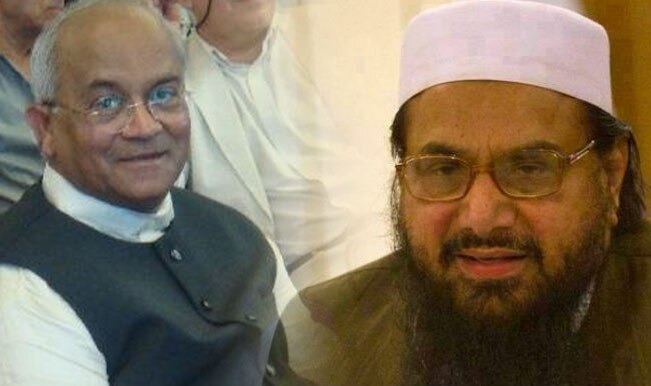 The brouhaha over Indian journalist Ved Pratap Vaidik reportedly meeting Pakistan-based 26/11 mastermind and JuD chief Hafiz Saeed seems to be yet another case of much ado about nothing for the Congress, still smarting under the humiliating defeat in the general elections.
The fact that Vaidik happens to be a trusted aide of spiritual godman and yoga guru Ramdev Baba seems to have given the Congress a handle to beat the Narendra Modi-led NDA government. The Modi government has distanced itself from the Saeed-Vaidik meeting, saying it had "not sanctioned" it and asserted there is no change in its stand on the terror mastermind. Even Vaidik has denied he had met Saeed at the behest of the government.
Here are five reasons why the meeting should be dismissed as inconsequential and an attempt by Vaidik to gain some publicity and appropriate for himself a more active governmental role.
First: For any kind of peace initiative to gain traction in Pakistan, it needs to talk to the right people. Besides the non-state actors led by Saeed and the mullahs, the strong anti-India camp within the Pakistan military establishment and ISI have thrived by raising the bogey of Indian supremacy and dismemberment of India. History has several instances where diplomatic initiatives by political leadership have been scuttled. Case in point, Prime Minister Atal Behari Vajpayee and Nawaz Sharif's bus diplomacy was scuttled by the Pakistan Army led by Gen Prevez Musharraf.
Second: Assuming that Vaidik met Saeed as part of Track II or Track III diplomacy, there are serious questions about the outcome of such meetings. Fanatical to the core, Saeed and the terror organizations that he has spawned — Jama'at-ud-Da'wah (JuD) and the Lashkar-e- Taiba (LeT) – are sworn to liberate Kashmir from alleged Indian occupation. The amir of JuD has asserted time and again that "there cannot be any peace while India remains intact. Cut them, cut them so much that they kneel before you and ask for mercy". If at all Vaidik was sent as an emissary by the NDA government, then rest assured it would be a fool's errand.
Third: Track II diplomacy involves unofficial dialogue aimed at building relationships and encouraging new thinking that can inform the official process. Will Saeed change his stripes or forsake his demand for an independent Kashmir? With a right-wing BJP in power at the centre, serious doubts exist about the room for maneuvering over Kashmir. Moreover, Track 2 initiatives in the full glare of media limelight, has always failed as it leaves little room for players involved to modify or alter their stands.
Fourth: Saeed is a proclaimed offender and has a bounty of USD 10 million on his head for being the mastermind behind the Mumbai attacks. India has demanded or implored with Pakistan several times to bring Saeed to justice. Talking to Saeed means India will have to turn a blind eye to Saeed's acts of terror. Narendra Modi will have to pay a heavy price for smoking the peace pipe on such terms.
Fifth: An active journalist once who writes an occasional column or two, Vaidik's credentials to be part of a diplomatic initiative, if at all there was one as Congress has alleged, is really non-existent. It should be dismissed as an attempt to gain some media mileage.