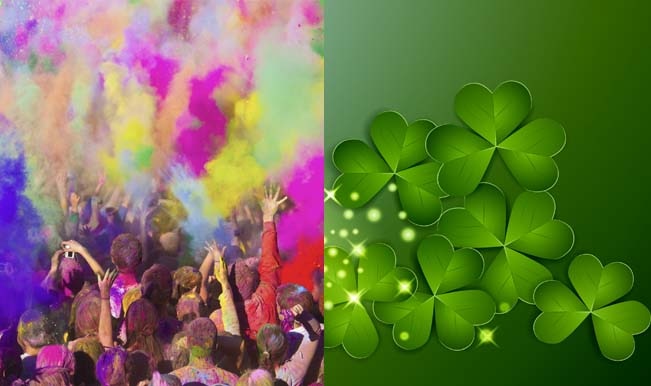 By Sam Hopkins
It's a heck of a coincidence: two countries that were once ruled by English monarchs find their citizens attracted across the ocean to another former British possession. The journeys of Indian and Irish people to the United States has unfolded over decades and centuries, but this year, they overlap on one day that marks a joyous highlight of each culture's calendar.
So, friends, what colors will you wear on March 17, 2014?
Irish-Americans, who at over 34 million number more than seven times the number of citizens of modern-day Ireland, will wear green on March 17, which is St. Patrick's Day every year. St. Patrick's Day commemorates the casting out of snakes from Ireland, commonly known as the Emerald Isle. At least, that's what the legend says. It's more accurate to say that St. Patrick, or Paddy, as he's affectionately known (from the Irish Gaelic name Padraig), cast out Paganism from the island as he promoted Christianity in the 5th century after Christ.
In a wide range of Irish legends, green means fertility, magic, and even immortality. Wearing green might help your crops grow, and at this time of year, the coming growth and harvest season is a major concern in agrarian cultures around the world. These days, the green associated with St. Patrick's Day runs through city streets during St. Patrick's Day parades, in glasses of beer that are consumed liberally with a dose of emerald food coloring to mark the occasion, and in the Windy City of Chicago, even the rivers are tinted to match the hue of hats, jackets, pins, and all manner of green paraphernalia you can buy to "look Irish" on this festive day.
What else marks St. Patrick's Day besides Catholic masses and parades through city streets? Alcohol. Lots and lots of alcohol. Nearly any liquor or beer that is even tangentially associated with Ireland (Irish whiskey, Guinness beer, etc.) puts a lot of money and promotional energy into supplying St. Paddy's Day partiers, and you're likely to see the effects for weeks leading up to March 17 as bar districts of American cities teem with green. Feel free to take part, but be careful of your own tolerance for alcohol and watch out for people who might not have been as judicious with their consumption as you have been!
If you are Indian or of Indian descent, you know the spring holiday of Holi very well. That's becoming true for Americans, who with the generations have gone to school and worked with more Indian nationals and U.S. citizens of Indian descent. The 2.84 million Americans who claimed Indian heritage in the 2010 U.S. census are far fewer than their Irish-American countrymen, but they have a fantastic opportunity this year to add some more colors to the "wearing of the green" that makes St. Patrick's Day a yearly festivity for Americans of all backgrounds.
Holi is a celebration of spring, marked by bonfires, celebration of the purging of evil that reflects several Hindu myths, and two days of bright, colorful revelry and relaxation of social norms. "Letting loose" certainly applies to St. Patrick's Day as well, but Holi does not yet have a set image in the minds of most Americans.
What will you do to bring Holi to your communities outside of India? Do you have any friends with Irish heritage who would help you do a holiday mash-up? Let us know in the comments below!