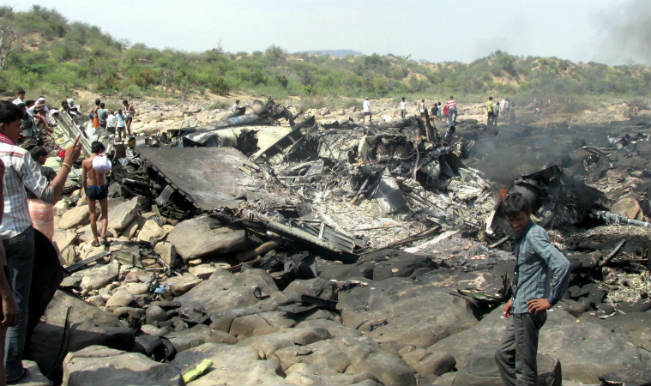 New Delhi, Mar 28: A recently acquired C-130J Super Hercules military transport plane, one of the most modern US-made aircraft, today crashed near Gwalior, killing all the five crew members, including four officers.
The aircraft, procured at an estimated cost of Rs 965 crore a piece along with five others for quicker movement of bulk troops, crashed an hour after taking off from Agra airbase for an exercise, officials said.
Quoting villagers, Karauli District Collector B L Jatawat told PTI that the plane probably hit some rocky area and caught fire on the bank of Chambal river and ravine areas at Gotaghat.
A Court of Inquiry was immediately ordered by the IAF to ascertain the reason of the crash. Air Force chief Arup Raha promised a thorough inquiry.
Those killed in the crash are the aircraft's Captain Wing Commander Prashant Joshi, Wing Commander Raji Nair, Squadron Leader Kaushik Mishra, Squadron Leader Ashish Yadav (Navigator) and Warrant Officer Krishnapal Singh (Flight Engineer), IAF officials said.
"One C-130J aircraft crashed 72 miles (115 km) west of Gwalior air base. The aircraft was airborne from Agra at 1000 hours for a routine flying training mission," an IAF spokesperson said.
Senior IAF officials said two C-130J Super Hercules Special Operations transport aircraft had taken off from Agra together while taking part in a tactical exercise, which involved flying at very low heights, at 10 AM but one of them crashed at around 11 AM.
IAF sources said the aircraft, fitted with four Rolls Royce engines, could not even communicate about the emergency before it lost contact with ground control.
The 'Black Box' of the aircraft has been recovered and is being analysed to assess the reason for the crash.
The planes have augmented IAF's capability to airlift troops closer to the borders in times of emergency.
The IAF had recently landed the aircraft at the high-altitude Daulat Beg Oldie air field near China border.
One of these multi-role special operations aircraft was recently deployed by India for the search operation of the missing Malaysian airliner MH 370.The C-130J aircraft manufacturer, Lockheed Martin, said it was ready to provide assistance as requested by the Air Force.
"We are saddened to hear the news about C-130J accident.
We are ready to provide assistance as requested by the Indian Air Force," he said in a statement issued tonight.