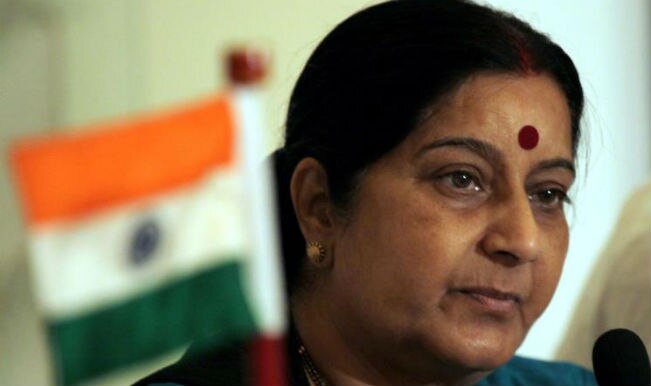 New Delhi, July 4 : India and Bangladesh have been consistently working towards strengthening bilateral ties. In a bid to strengthen strategic partnership, External Affairs Minister Sushma Swaraj recently visited Bangladesh, where she called upon top political leaders and assured them of India's commitment towards improving relations.
Swaraj held talks with her Bangladesh counterpart Abul Hassan Mahmood Ali during her recent two-day visit to the neighboring country. She assured that the new government is committed to take Indo-Bangladesh relations to a new high. Swaraj also called upon Prime Minster Sheikh Hasina and discussed key bilateral issues, including the Teesta Water sharing and Land Boundary Agreement.
She announced a grant of nearly 10 million dollars to Bangladesh for implementation of various small development projects. " It is well known that a great deal has been accomplished in the India-Bangladesh relationship in the last few years. Progress has been made towards settling long pending issues. Fresh ground has been broken in the areas of security, economic development, sub-regional co-operation, opening of the Indian markets to Bangladeshi goods, border, infrastructure, energy and people to people exchanges. There is forward movement on accessing the hydel energy potential of our northeast by Bangladesh," said Swaraj.
"We discussed our bilateral relations and agreed to take the relationship to a higher level. I conveyed to her our government's full commitment and cooperation to work with the BJP government for further strengthening our relations," said Abul Hassan Mahmood Ali
India shares a 4096 km long border with Bangladesh out of which 1,880km is with the northeast region. While this provides a good scope for cross-border trade, it raises various issues related to illegal activities and cross-border crimes. The Minister stressed on the need for the two countries to work together to curb such activities and better border management.
"We are grateful for the co-operation we have received from Bangladesh in combating trans-boundary crime, insurgency and terrorism. Indeed our cooperation in this regard is a model for others. And we should continue and further strengthen our cooperation so as to ensure a long lasting safe, secure and peaceful neighbourhood," said Swaraj.
The minister also laid stress on facilitating better people to people contact by developing the transport facilities. "We will augment the popular Maitree service (train service) by increasing the number of air-conditioned coaches and by increasing the frequency of the service. We are also looking forward to starting a Guwahati-Shillong-Dhaka bus service," she added.
Better trade relations will hugely benefit people on both sides of the border. The two neighbouring countries that share strong bilateral ties are committed to address various border security issues and develop a stronger relationship.