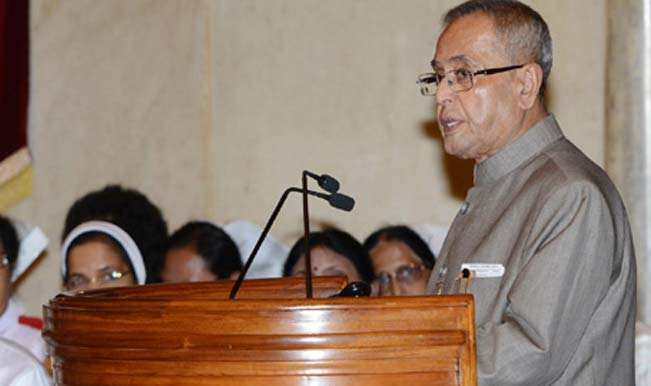 New Delhi, June 9: India would "engage energetically" with neighbours like China, Japan and Russia and bring in "renewed vigour" to its ties with the US, President Pranab Mukherjee said on Monday. Addressing a joint sitting of both houses of parliament, Mukherjee said the government would engage with China to further develop India's strategic and cooperative partnership.
His comments come as Chinese Foreign Minister Wang Yi is in the capital on a two-day visit to make contact with the new government headed by Prime Minister Narendra Modi. The president said with Japan, the government would "strive to make progress in the many initiatives that are ongoing, especially in the field of building modern infrastructure in our country".
"Russia remains a privileged and strategic partner and my government will build further on the firm foundations of this relationship." On ties with the US, which are seen to have plateaued, the president said: "India and the US have made significant progress in developing strategic partnership over the years. My government will bring a renewed vigour to our engagement and intensify it in all areas, including trade, investment, science and technology, energy and education."
Referring to ties with Europe, the president said the government "will make concerted efforts to achieve progress in key areas with the European Union as well as its leading members". The president said the government would operationalize the international civil nuclear agreements with different countries and "nuclear power projects for civilian purposes will be developed".
In order to realise the country's soft power potential, "there is need to integrate it into our external interchange, with particular emphasis on our rich spiritual, cultural and philosophical heritage. The government will revive Brand India riding on our strengths of Five T's: Tradition, Talent, Tourism, Trade and Technology", he said.
He said India's vibrant, talented and industrious diaspora is a source of great pride for the country. "They have done pioneering work in diverse fields, held the highest public offices and have worked hard to support their localities and families in India." He said the 2015 Pravasi Bharatiya Divas would mark a centenary of Mahatma Gandhi's return home.
"As we celebrate the centenary of Gandhiji's return to India, we would also take steps that would deepen every Pravasi Bharatiya's connection with India and involve them in India's development."