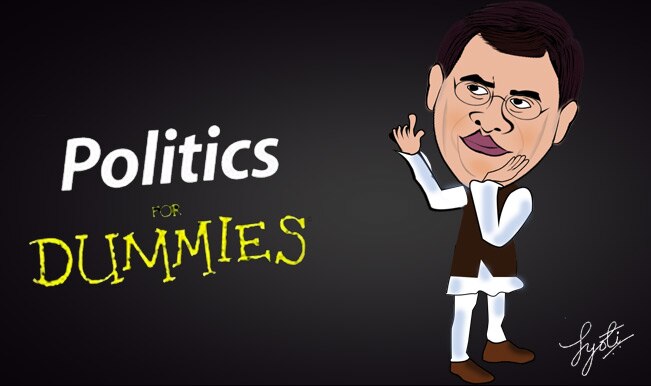 The Lok Sabha Elections are coming up and unless you're a journalist, insomniac or grandfather, you'll really have no clue what all the fuss is about. Here's your extremely short guide to know everything about the upcoming Lok Sabha elections. Rahul hope this helps you:
A- AAP/ Arvind Kejriwal
The Aam Aadmi Party has redefined politics by coming to power in Delhi and Arvind Kejriwal is the new hope of the people.
B – BJP
Current Opposition party which is confused between shedding its Hindu image or alienating its voters still fuming about losing out in Delhi despite having won the most seats.
C – Congress
Everyone is fed up of India's ruling coalition which is led by the Congress thanks to its inefficiency and corruption. Rahul Gandhi's dumb quotes and Manmohan's silence also exacerbated the matter.
D – Digvijay Singh
Congress' spokesperson who can put a positive spin on everything and make it sound like Rahul Gandhi is responsible for the world revolving around the sun.
E – Epic
Epic would be the most apt word to describe this year's elections as people fed up with corruption decide to usher in a more accountable government which doesn't alienate a democracy.
 F – Feku
It's a moniker given to Narendra Modi by those of a Congress persuasion to describe his habit of exaggerating facts and twisting history.
G – Gandhi
The most powerful family in the country and has already given us two Prime Ministers.
H – Hindutva
It's the BJP's basic philosophy which looks to get rid of the secularism garb and declare India as a Hindu nation.
I – Indian 
Refers to the average poor Indian, who is told a million lies and then forgotten again after they vote.
J – J.Jayalitha
Tamil Nadu CM J. Jayalalitha could act as a kingmaker in the upcoming Lok Sabha elections.
K – Kashmir
The Kashmir conundrum remains one of India's biggest liability and will be an election issue.
L – LOC
The ruling government's indecisiveness in dealing with border worries will surely come back to haunt them.
M – Mayawati/Mamata/Middle Class
The M is a special letter in politics this year. There's Mamata Banerjee in Bengal, a Chief Minister who thinks every ill in the world is caused by Maoists and CPM and Dalit leader Mayawati in UP who shared Modi's fondness for statues. The third big M this year is the middle class which has shaken off years of indifference to finally have their say in politics.
N – Narendra Modi
Mr Modi remains the most visible politician in the country and it's impossible to spend two minutes without seeing his face.
O – Out-of-date thinking
Old world politics with emphasis on caste and religion are definitely out, the faster the political parties realise that, the better.
P – Pappu
Pappu is Rahul Gandhi's not-so-kind nickname to describe his academic failures and general ineptitude.
Q – Queue
Lines people are going to find themselves in when they go to vote
R – RSS/ Rajnath Singh
RSS is the Hindu nationalist group which holds a lot of pull in the BJP.
Rajnath Singh is BJP's current President who is mostly overshadowed by Modi.
S – Sonia Gandhi
Sonia rules the Congress with an iron fist but her efforts to pass on the baton to her son hasn't gone well.
T – Third Front
Any political coalition that doesn't involve the BJP and Congress.
U – UPA
The country's current ruling coalition which looks to be on the way out after years of misrule.
V – Robert Vadra
Sonia Gandhi's son-in-law with a talent for losing weight, acquiring land and making dumb statements.
W – Water under the bridge
Politicians expect minor things like riots and corruption will be treated like water under the bridge and forgotten.
X – Xenophobia
Hatred of people from different countries particularly the US for not respecting our maid policies.
Y – Youngistan
The youth of the nation suddenly realised they can play an active role in politics.
Z – ZZZ
What politicians normally do in the parliament after the dust has settled.
Cartoon by Jyoti Desale