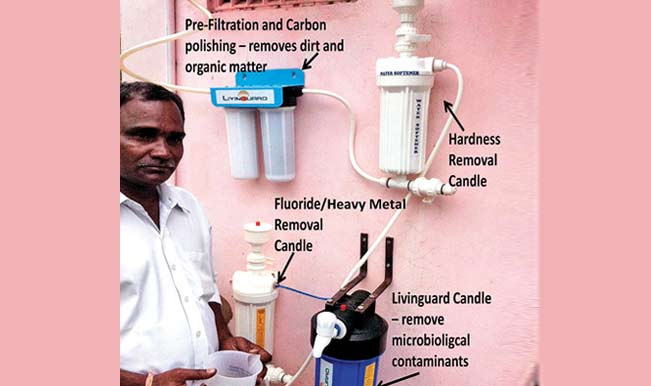 Contaminated water claims one of five deaths reported in India. Even after 66 years of Independence nearly one million people do not have access to clean water. Thousands of people everyday travel miles to fetch a basic necessity like water. Their woes do not end there as they have to boil the water to make it drinkable.
But a domestic company has come up with a solution that can solve the problem of filtering the water. The company, Livinguard Technologies, has range of products that can purify water in villages and remote areas through some special household filters based on gravity filtration and approximately 7-8 liters of water can be purified and stored. These filters kill germs and bacteria within a minute and prevent from water borne diseases. This technology can be installed with less than Rs 1,000.
Sanjeev Swamy, chief executive officer, Livinguard Technologies says, "We were able to theoretically find the best possible solution that would work on all three organisms, bacteria, viruses and fungi, effectively."
This company has tie up with NGO's, funds and other organisations. "The feedback after only a few months of use has been incredible. I have heard from villagers of not only the positive changes in taste and quality of water but also the remarkable decrease in water-borne illnesses like diarrhoea and dysentery. The impact on health and well being of BPL families exemplifies the potential and success of Livinguard," Swamy said.
The filters are not only environment friendly but also requires absolutely no electricity, wastes no water and uses no chemical to purify water. The cost effective technology can be used at any level.