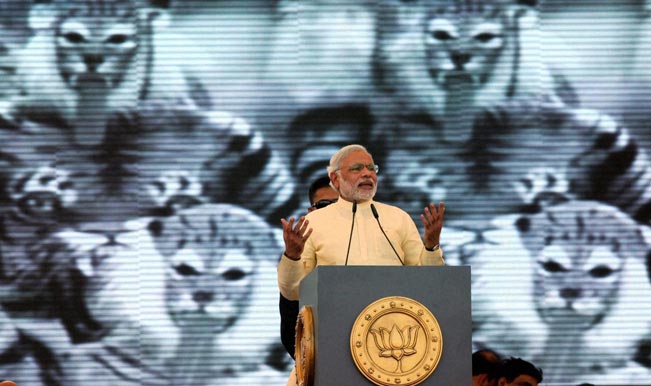 Narendra Modi talks about development, avoids religious issues, and paints himself as the messiah of non-partisan politics who is interested in future of this country. A future he paints of, as being secular, where religion doesn't matter. Yet when it comes to standing for elections, Modi chooses to contest the elections from Varanasi, the Hindu temple town from where the Sabarmati Express leaves. Quiet symbolism? Is this a smart strategy or just bad old communal politics?
Over the last few years, Modi has worked vigorously to remove the indelible mark that has stuck to him of him being a Hindutva ideologue after allegations that he was involved in the 2002 Gujarat riots that occurred in Gujarat. The riots clearly showed the lack of a proper law and order mechanism by Modi's government, which was in power at the time.
While the BJP and Modi fans claim there has been a Modi wave in India, with some Modi sycophants believing and proclaiming, that every young Indian today looks up to Modi for securing his future, clearly Modi isn't quite confident and has decided to play safe by contesting from the safe seat of Varanasi in Uttar Pradesh, where the party is clearly seen as a strong contender.
Clearly Modi is depending on the Sangh Parivar and his Hindutva roots to push for a victory in the state of Uttar Pradesh and knows that the Modi wave is just more hype similar to the "Gujarat Development Model" and other marketing strategies pushed by the Modi brigade.
With reports of Arvind Kejriwal also planning to contest from the holy city of Varanasi, it's going to be one interesting boxing match to watch out for. This tweet from Twitter though, makes a lot of sense of the current situation though.
Modi chose Varanasi because it is Varanasi. Others who decide to contest will choose it because of Modi, not out of any love for the city.

— PulakeshUpadhyaya (@pulki_bushu) March 16, 2014