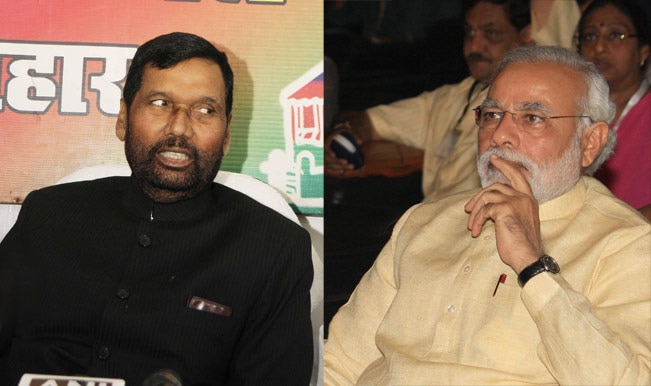 Lok Janshakti Party (LJP) leader Ram Vilas Paswan signaled on Sunday that he may join the Narendra Modi-led National Democratic Alliance (NDA) if given the opportunity to contest from 10 Lok Sabha seats in Bihar. Key among these is Jamui and Samastipur, seats that Congress may not be ready to give up to LJP just yet. Is Paswan really going to join hands with Narendra Modi as he was the reason he left the NDA? If does join hands with BJP – will it dampen the opposition camp? Is he a force to reckon with in Bihar?
After JD(U) snapped ties with BJP, a tie-up with LJP will definitely boost its prospects in Bihar. Further, political parties joining NDA will help BJP get more parties on board.
1)     Ram Vilas Paswan has often shifted his loyalty depending on which is the winning side. In 2002 he had moved away from NDA post 2002 Godhra riots. That he would like to join the NDA that is now led by the CM of Gujarat would be a clear sign of his priorities.
2)     Many in the RJD and even within the BJP feel Paswan could simply be using this as a rouse to drive a hard bargain with the RJD and the Congress in order to gain the 10 select seats in the upcoming 2014 elections that could be rather tough for him.
3)     Ram Vilas Paswan's LJP has had a rather poor showing in the national polls winning no seats in 2009 and lowering its seat count in the 2010 assembly polls. Besides with Modi wave gripping Bihar, the LJP is not slated to win more than 2 or 3 seats at the most, with the BJP winning at-least 16 to 24 seats.
4)     For now only former MP, Surajbhan Singh of the LJP has stated that the party would be tying up with the NDA. LJP Secretary General Abdul Khalik has also stated that no decision has been taken yet.
5)     The RJD-Congress combine probably is banking on Nitish Kumar to work his magic in Bihar, but considering the UPA hasn't cleared the special status for Bihar just yet, they may be conceding victory to the BJP already.
The alliances will fall in place in the coming days. What remains to be seen is will Paswan go back to NDA or will Congress with the help of RJD-JD(U) and LJP give BJP a tough fight.