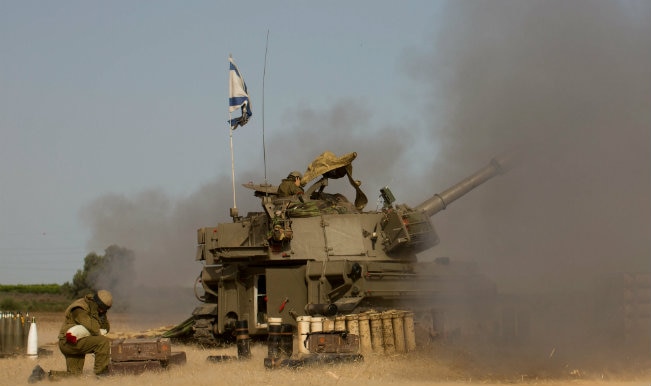 Gaza/Jerusalem, Aug 3: At least 30 people were today killed in renewed Israeli shelling in the Gaza Strip taking the Palestinian toll to 1,712, even as the Jewish state vowed to keep up pressure on Hamas while signaling plans to scale down its three-week long military operation. Nine members of a family were among 30 people killed today in Israeli attacks in Rafah, bordering Egypt, taking the Palestinians toll to 1,712, with more than 9,000 wounded.
The dead included 398 children, 207 women and 74 elderly people, said Dr. Ashraf al-Qedra, spokesman for the Palestinian Health Ministry in Gaza. Meanwhile, Israel today declared dead one of its soldiers who was captured by militants on Friday, triggering a major escalation of conflict and collapse of a 72-hour humanitarian truce, brokered by the US and the UN.
So far 64 Israeli soldiers have been killed and 400 others injured. Three Israeli civilians and a Thai national also died in rocket and mortar attacks.
Israel has indicated that it may be scaling down its ground offensive in Gaza as its troops pulled out from parts of the coastal strip. The Israeli army yesterday told residents of Beit Lahiya town in northern Gaza that it was "safe" to return to their homes, as witnesses said troops were seen withdrawing from the area. "We have told Beit Lahia residents that they may return to their homes. We advised them to avoid explosives placed by Hamas across the area," the Israel Defence Forces tweeted.
It was the first time troops had been seen pulling back since the start of the deadly 27-day conflict, which has forced up to a quarter of Gaza's population into exile. The move came after the army said Israel was "quite close to completing" the destruction of tunnels used to infiltrate southern Israel. However, later in the day, Prime Minister Benjamin Netanyahu said Israel will keep up its military campaign in Gaza for as long as needed and with as much force as necessary. He said that all options were "on the table".
"From the beginning, we promised to return the quiet to Israel's citizens and we will continue to act until that aim is achieved. We will take as much time as necessary, and will exert as much force as needed," he said in a public address. But despite the partial withdrawal, Israel's security cabinet decided against sending representatives to hold ceasefire talks with the Palestinian delegation that had arrived in Cairo yesterday. The delegation included a representative of Fatah and Palestinian intelligence, with Hamas and Islamic Jihad likely to join it later.