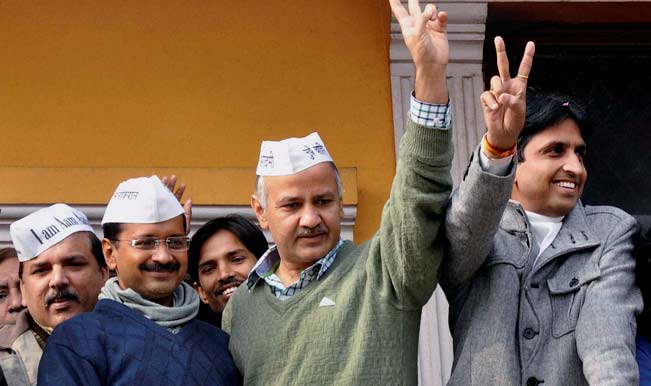 New Delhi, Dec 27: Arvind Kejriwal will take charge of Delhi as its Chief Minister tomorrow in a meteoric rise to power after breaking away from anti-graft crusader Anna Hazare and launching Aam Aadmi or Common Man's Party a year ago with a pledge to clean up politics.
45-year-old Kejriwal, a Magsaysay award winner who quit Indian Revenue Services to fight graft and shot into limelight as an RTI activist and later with Jan Lokpal bill agitation, will take oath as Delhi's youngest Chief Minister along with six of his ministerial colleagues at a public function at the historic Ramlila Maidan which is expected to be attended by a large crowd.
After leading his party to a phenomenal success in the assembly polls, Kejriwal will now face the immediate challenge of fulfilling a number of key promises like passage of Delhi Jan Lokpal Bill, cutting power tariff by 50 per cent and supplying 700 litres of free water to each household in the city.
He will be facing enormous public expectations as he had capitalised on the disillusionment of various sections of citizens — be it autorickshaw driver, residents of slum clusters or middle class families — with mainstream political parties.
Kejriwal is expected hold a meeting of his cabinet immediately after the oath taking ceremony and is likely to make certain announcements.
The AAP government, with outside support from the Congress, is likely to have little over two months' time to deliver on its immediate priorities as model code of conduct for the Lok Sabha polls is set to come into force in March.
His moves on the promise to probe allegations of corruption against the Sheila Dikshit dispensation will also be watched carefully as he led AAP to electoral victory pledging to root out corruption.
Kejriwal has already started the process of identifying "honest" officials in Delhi Government and indicated that they will be given important tasks.
Initially AAP had refused to take support from either Congress or BJP to form the government following which both the parties had accused it of shying away from the responsibility fearing that it would not be able to deliver on its promises.
On Monday, the party had staked claim to form the government after results of its 'referendum' overwhelmingly favoured it to take the reins of power.
From 26-year-old Rakhi Birla to 41-year-old Manish Sisodia, the Delhi Cabinet is not just going to be the youngest ever but also probably the first in which all members, including the Chief Minister, are debutant MLAs.
Birla will not just be the youngest minister in Kejriwal's cabinet, but also its only woman face.
Birla had emerged as a giant killer after thumping four-time MLA and PWD Minister Raj Kumar Chauhan in the previous Sheila Dikshit government in Mangolpuri by around 10,500 votes.
Before joining AAP, Birla had worked with a private news channel.
Manish Sisodia, a trusted aide of Kejriwal, came to prominence during Anna Hazare's movement for Jan Lokpal Bill in 2011. The 41-year-old journalist turned-activist-turned- politician defeated BJP's Nakul Bhardwaj by over 11,000 votes from Patparganj constituency in East Delhi.
Another face in Kejriwal's team is Saurabh Bhardwaj, an engineering graduate who had also studied law.
The 34-year-old defeated Ajay Kumar Malhotra, son of veteran BJP leader V K Malhotra, by a margin of around 13,000 votes from Greater Kailash constituency.
Kejriwal, who is a product of IIT Kharagpur, has another IITian in his cabinet in Somnath Bharti who is an MLA from Malviya Nagar. He holds a Master's degree from IIT, Delhi, and a degree in law. The 39-year-old defeated BJP's Arti Mehra and another Delhi government minister Kiran Walia.
MLA from Shakur Basti (North) Satyendra Jain, who will also be inducted as a minister, is an architect by profession.
Satyendra used to work in CPWD but fed up with the level of corruption in the department, he quit his job and started providing architecture consultancy.
He actively joined during the Jan Lokpal movement and then joined AAP when the political party came into being.
Girish Soni, an MLA from Madipur, had participated in Bijli-Pani agitation of the Aam Aadmi Party and motivated people to join the agitation. He was associated with Bharat Naujawan Sabha in 1980. He was the general secretary of the party in Madipur.
The AAP has led several protests since its formation. Among these was a campaign against an alleged nexus between government and private corporations on electricity and water tariffs in Delhi. Another saw the party demanding justice for victims of sexual harassment and rape, including the introduction of a stronger anti-rape law.
The party symbol ? a broom? and its promise to clean up corruption — has struck a chord with the people as it won 28 seats in the 70-member assembly. The party had come second in 20 seats.
The party claims that the common people remain unheard and unseen except when it suits the politicians to consider them. It wants to reverse the way that the accountability of government operates and has taken an interpretation of the Gandhian concept of 'swaraj' as a tenet.
Though the BJP has accused AAP of betraying people of Delhi by taking support of "corrupt" Congress, the new party said they have not entered into any alliance with Congress and that the support has been based on issues.
The uneasiness in the relationship between Congress and AAP could be gauged when Sheila Dikshit earlier this week said that her party's support was not "unconditional".
"The Congress is not giving AAP unconditional support. We are only giving them outside support," she said.
In its manifesto, AAP had promised to slash power tariff by 50 per cent besides carrying out scrutiny of the accounts of the private power distribution companies.
The power tariff in Delhi is decided by the Delhi Electricity Regulatory Commission and it will be interesting to see how Kejriwal brings it down by half.
AAP had also promised to enact Jan Lokpal Bill within 15 days of coming to power. The party said the Delhi Jan Lokpal Bill would cover all the officials and employees of Delhi Government, from the chief minister to MLAs.
AAP had further promised devolution of power to the people by setting up Mohalla Sabha which would decide about the development work to be carried out in respective areas.
In its 50-page manifesto, AAP also said it would construct two lakh community and public toilets in the city, with 50 per cent of them for women, if voted to power. PTI