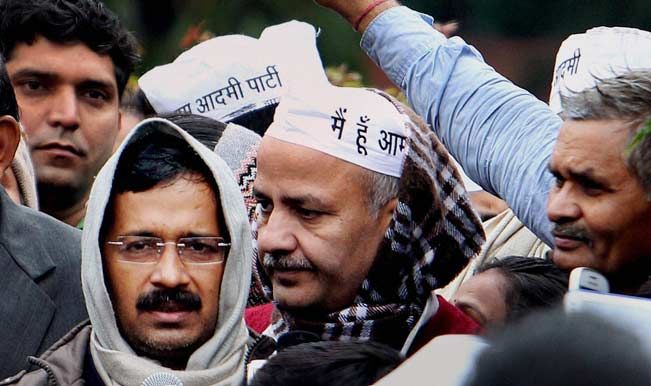 The Jan Lokpal Bill is almost ready and will be passed next month at Delhi's Ramlila Maidan, in the midst of people, Chief Minister Arvind Kejriwal said Saturday. He said India has the best constitution in the world but had it been implemented properly for even five days, the level of corruption in the country would not have been so high. 'Corruption is the biggest issue for our government. We have to fight corruption. The Jan Lokpal Bill is almost ready and in the month of February, we will have a special assembly session at Ramlila Maidan, and in the midst of people the bill will be passed,' Kejriwal said in his address to people on the eve of Republic Day at Chhatrasal stadium here.
'The bill promises strict action against people who indulge in corruption. Under this law, he (corrupt person) will lose his (or her) job and will also be sent to prison,' the chief minister said. He said the intention behind the law was not to send people to prison but to prevent corruption and instil a sense of fear. 'Though the provisions in the constitution say every Indian is equal, where is equality?' the chief minister questioned.
'I am not saying corruption has been eradicated from Delhi. But ever since we assumed power, I have heard, and people have told me, that there is now a sense of fear, and that is a good thing. I can now say that corruption has been reduced, at least by 20 to 30 percent,' Kejriwal said as the crowd cheered. He also said safety and security of women was an important issue for his government. Stating that security of women in the capital was highly compromised, Kejriwal said the government has formed a committee under the chief secretary for the formation of a 'Mahila Suraksha Dal' in the city.
'We constituted a committee called 'Mahila Suraksha Dal' Friday under the chairmanship of Chief Secretary Sanjay Kumar Srivastava. It will be a separate body for the protection and security of women. The body, comprising retired army personnel and home guards, will ensure protection and security to women,' Kejriwal said.
Though committee members may not have powers like police, they will work like security guards stationed outside buildings and housing societies, he said. The committee under the chief secretary will make provisions to ensure that rapists are sent to jail within 3-6 months.
Defending his 32-hour agitation in the heart of Delhi a couple of days back, Kejriwal said it was for the first time that a chief minister protested for the safety of women, but by imposing section 144 the central government proved it was not serious about the issue. 'The central government said my protest was against the constitution but there is no provision which says that a chief minister cannot sit on a dharna. If I have to agitate for women's safety again, I won't hesitate,' he said. He said the people of Delhi should 'govern themselves' and therefore a law pertaining to 'mohalla sabhas' was being prepared. 'If people keep on approaching us for every little problem, it will be difficult for us to govern effectively. Therefore, we want people to govern themselves. We want to transfer power to them,' Kejriwal said.
'We will divide Delhi into clusters and elections will be held in these mohallas, headed by a chairman. We will give them funds and they will meet every week and decide how to spend it on water, electricity, cleanliness, roads, parks etc. In the next 15 days, a draft of this law will be finalised,' he said. Blaming some media houses for 'intentionally trying to create hurdles' for his Aam Aadmi Party, Kejriwal said: 'We are trying to save the country from corruption and if media projects AAP in a negative light, who will save the country?' IANS