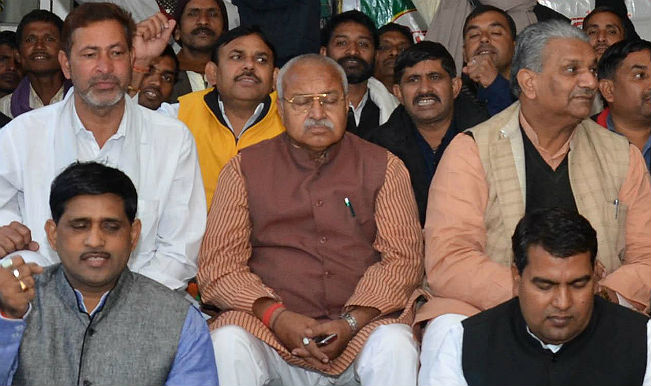 Moradabad, July 26 : Uttar Pradesh (UP) Bharatiya Janata Party (BJP) president Laxmikant Bajpai staged a sit down protest outside the residence of Moradbad's District Magistrate (DM) to fight for the self respect of BJP MLAs detained during the recent Kanth violence.
"We are not fighting for the loudspeaker issue because that has already gone to the high court. We are fighting for the self respect of our party MLAs, the way they were treated. We haven't come to do politics. We want an FIR to be lodged against Senior Superintendent of Police (SSP) Dharamvir Yadav, Assistant Superintendent of Police (ASP) Anil Kumar, Circle Officer (CO) Rahul and their co-workers and we will continue to protest till then," said Bajpai. Earlier today, leaders from both the Congress as well as the BJP were scheduled to visit the district even as paramilitary forces were deployed near the Kanth police station.
The Uttar Pradesh police have decided to stop vehicles going towards the city so as to contain the situation. At the epicentre of the trouble in Moradabad is a temple in Muslim dominated Akbarpur village belonging to the Jatav community. Trouble started last month after a section of villagers protested against installation of a loudspeaker in the temple. The VHP has reportedly demanded re-installation of loudspeakers and wants to hold to perform puja at the temple.