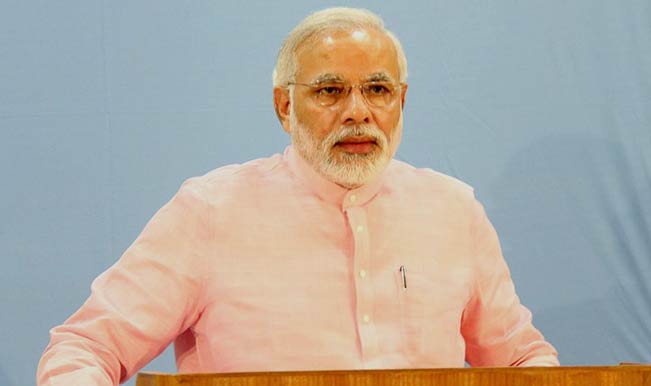 New Delhi, May 20: Narendra Modi will take oath as Prime Minister at 6 PM on May 26. BJP president Rajnath Singh announced this after meeting the President Pranab Mukherjee with NDA leaders, led by L K Advani to stake claim to form the government. Modi presented the President a bouquet who in turn greeted the Prime Minister-designate with a bouquet.
Mukherjee congratulated Modi on the grand victory.
Narendra Modi meets President Pranab Mukherjee at Rashtrapati Bhavan pic.twitter.com/skU8jmwvky

— ANI (@ANI_news) May 20, 2014
  Earlier the BJP's Prime Ministerial candidate was elected as the NDA group leader. The 29 party pre-poll alliance of NDA elected Modi as the NDA group leader. Before this Modi was unanimously elected as BJP parliamentary group leader after senior BJP leader L K Advani proposed his name.
RT @ANI_news: Delhi: Shri @NarendraModi's convoy en route to President House pic.twitter.com/kW5cBMdqDQ — Ashok MODIfied (@Real_Ashok) May 20, 2014
Barring a couple of alliance partners all the NDA alliance partners were present in the Central Hall of Parliament and supported Modi as the group leader. Shiv Sena chief Uddhav Thackeray, TDP chief  N Chandrababu Naidu, SAD chief Prakash Singh Badal, LJP chief Ram Vilas Paswan among others were present on the occasion.
Speaking after his election, BJP prime minister-deisgnate Narendra Modi said he will work for the people the next five years and will submit a report card at the end of his tenure in 2019. He said those born in free India should take pledge to live for the motherland and dediate their life to work for the country.
In the course of his acceptance speech Modi broke down while addressing the BJP parliamentary board meeting Referring to Advani's comment, he said like this country is his mother land, BJP too was like a mother to him.
He said his election shows the strength of democracy. The government should work for the poor and the new government is dedicated to poor, youth and the women. He said posts do not matter but responsibility do. He recalled how at the end of the campaign on May 10 he reported what he acheived to BJP president Rajnath Singh. Modi said he has lived the life of a party worker.
Modi expressed gratitude towards party MPs for the unanimous election. Atal Bihari Vajpayee's presence would have been icing on the cake. Senior BJP leader L K Advani who proposed Narendra Modi's name said it is historic day for all of us. Advani congratulated Modi on the huge support he got in the elections. BJP parliamentary board on Tuesday elected Narendra Modi as its Parliamentary Group leader after senior BJP leader L K Advani proposed his name. Murli Manohar Joshi, Venkaish Naidu, Nitin Gadkari, Sushma Swaraj, Arun Jaitley, Gopinath Munde, Ravi Shankar Prasad, Shahnawaz Hussain second Modi's nomination. BJP president Rajnath Singh who chaired the BJP parliamentary board meeting, announced Modi's election.
BJP leaders thumped the desks to congratulate Modi on his election and gave him a standing ovation. Speaking on the occasion Rajnath Singh said it is a special day for all of us. Credit for making the contest bipolar goes to Atal Bihari Vajpayee and L K Advani. It is a historic victory win for the party.
BJP has the highest number of Schedule Caste and Schedule Tribe MPs in the 16th Lok Sabha. He said the party vote share has also increased in states where BJP was considered weak. We fought on positive agenda – development and good governance. But some parties tried to divert from the agenda but people have voted for development. Modi sought Advani's blessings after his election as BJP parliamentary group leader. BJP leader Narendra Modi moves a step close to become the Prime Minister with senior BJP leader L K Advani proposing his name as BJP Parliamentary Group leader. BJP president Rajnath Singh is chairing the proceeding. Prime Minister-designate Narendra Modi reaches Central Hall of the Parliament. BJP president Rajnath Singh is chairing the BJP parliamentary board meeting.
Senior BJP leader L K Advani is also sharing the dias with Modi and Singh. Bharatiya Janata Party prime ministerial candidate Narendra Modi will be elected as BJP Parliamentary Group leader with senior BJP leader L K Advani to propose Modi's name for leader of the BJP Parliamentary Party. Modi will first be elected BJP Parliamentary Party leader at a meeting in the central hall of Parliament around noon and shortly later by the NDA MPs. After this, he will meet the President along with a delegation of coalition leaders, who will convey to him their decision to choose Modi as their leader.
The 63-year-old Prime Minister-to-be will meet President Pranab Mukherjee in the company of NDA leaders after his election as leader of the grouping which will enable the President to appoint him to the post. Modi is likely to be sworn in by the weekend. A number of names of top BJP leaders including Rajnath Singh, Sushma Swaraj, Arun Jaitley, Nitin Gadkari, Murli Manohar Joshi and Venkaiah Naidu were doing the rounds for possible inclusion in Modi's Cabinet. Party vice president Mukhtar Abbas Naqvi could be the sole Muslim face in the Cabinet.
There is speculation that former minister Arun Shourie could be in the race for Finance Ministry while Jaitley may get External Affairs. Besides, some leaders belonging to allies like Shiv Sena, TDP, Akali Dal and LJP may also be included. For the third successive day on Monday, a series of meetings took place in the BJP, RSS and at Gujarat Bhavan, where Modi is putting on. For the first time since the results were declared, Swaraj called on Modi in Gujarat Bhawan, the nerve-centre of activities these days.
Close aides Jaitley and Amit Shah, besides Kalyan Singh met the Prime Minister to-be separately. Vaiko, an ally of BJP in Tamil Nadu, who lost the election, also met Modi, while YSR Congress chief Jaganmohan Reddy also called on him and extended "issue based" support to his government. Sources claim that Modi kept to himself the strategy over his Cabinet formation. After his election, Modi will go to Ahmedabad in the evening. On May 21, he will resign as Chief Minister and a new leader of the Gujarat BJP Legislature Party will be elected to succeed him in the state. Sources say that Modi's close confidante and Revenue Minister Anandiben Patel is the frontrunner for the Chief Minister's post.
As party leaders continued parleys among themselves and with RSS leaders, indications emerged that the leadership would like Jaitley to be part of the government, notwithstanding his defeat. While the role of party patriarch L K Advani in the new government is not clear, sources say party veteran Murli Manohar Joshi is said to have conveyed to Modi that he has no problems in working under him in his Cabinet. The RSS office in Jhandewala was also abuzz with activity as a number of newly-elected BJP MPs met senior RSS leaders. Modi's close aide Shah and Jaitley also met top RSS functionaries and held discussions.