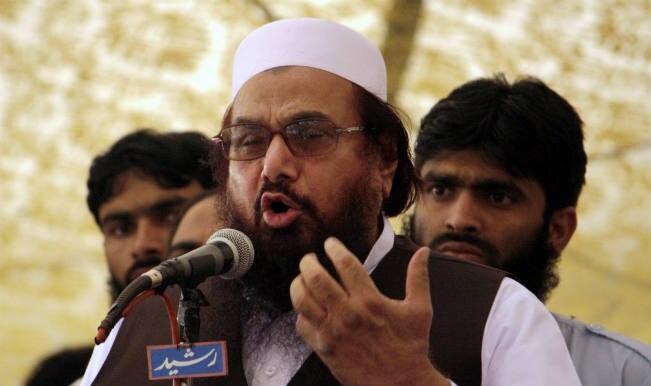 New Delhi, Jul 14: Yoga guru Ramdev's close aide Ved Pratap Vaidik's meeting with 26/11 Mumbai attack mastermind Hafiz Saeed in Pakistan sparked off a major row ob Monday with the Congress seeking to pin down the Narendra Modi government by asking if he was sent as an emissary even as the ruling BJP distanced itself from the meeting, asserting Saeed was a "terrorist".
The 69-year-old Vaidik, who was founder-editor of Hindi news agency Bhasha, however said wanted to "analyse his (Saeed's) mind" and "why he committed heinous crimes against India" in the meeting which took place early this month.
The meeting created an uproar both in parliament and outside. Raised in the Rajya Sabha, the matter forced the house's adjournment twice.  The Congress sought to know if Vaidik was sent as an emissary and why proper channels had not been followed.
Leader of Opposition in the Rajya Sabha Ghulam Nabi Azad said he was surprised when Vaidik, who is a columnist and a journalist, claimed to be an emissary. "It is most surprising Vaidik claims to be intermediary. Who sent him on the mission?" he questioned.
Congress leader Anand Sharma said it was "not a small issue". "He (Vaidik) is not just a journalist. This person claims to be an emissary. Such a meeting cannot take place without officials being informed," he said. Finance Minister Arun Jaitley, however, clarified that Vaidik was not sent as a government representative.
"As far as the government is concerned, Hafiz Saeed is a terrorist. The government of India has nothing to do with any journalist in his individual capacity meeting him," he said.
Continuing to attack the government, Congress spokesperson Shakeel Ahmed said that the issue does not pertain to Vaidik only and "the whole government seems involved".
A Congress leader privately said that Vaidik was seemingly close to the Sangh Parivar and his meeting with Saeed could not have taken place without the knowledge of the authorities. The Bharatiya Janata Party however said it disapproved of Vaidik's meeting with Saeed.
"It is not our mistake. We disapprove it," BJP leader and union minister Prakash Javadekar said after a party briefing.
He said the Congress had not taken action when separatist leader Yasin Malik shared the dais with Saeed on the issue of hanging of parliament attack convict Afzal Guru.
Yoga guru Ramdev, whose association with Vaidik extends to about two decades, said he would talk to him about the meeting. However, he defended Vaidik by saying that he must have met Saeed as a journalist.
"I will talk to Vaidik. I am very confident that even if he has met him, he must have tried to change his (Saeed's) heart. Vaidik is a renowned journalist and when a journalist in any context meets a personality, it is for good and to know the person's expectation," Ramdev said.
Ramdev, who also called Vaidik a "nationalist", however, said Saeed was an enemy of the country, and no Indian can ever consider him a friend.
Vaidik's Twitter account showed many pictures of his meeting with Saeed as also Pakistan Prime Minister Nawaz Sharif. Vaidik said he met Saeed July 2 in Lahore and had an hour-long chat with him in his capacity as a journalist.
"I am a journalist and I really wanted to know him. I wanted to know what kind of a man he is and why he committed heinous crimes against India," he told CNN-IBN channel in an interview.
Vaidik categorically denied his association with Vivekananda International Foundation, where National Security Advisor Ajit Doval had worked earlier.
Meanwhile. Central Bureau of Investigation's former chief Joginder Singh said there was "nothing wrong" in Vaidik meeting Saeed.
"It is one way of finding out information…It is a journalist's job to find out what you think," Singh told IANS.
Successive governments in India have asked Pakistan to take tough action against Saeed, the chief of the Jamaat-ud-Dawa (JuD), for his role in the 2008 Mumbai attack.The US in June added JuD to its list of designated terror organisations.