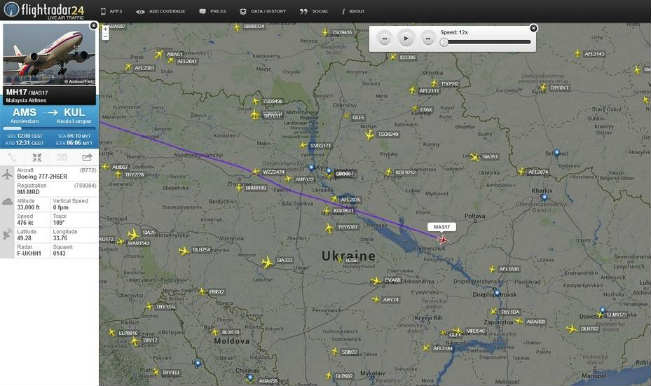 All 295 people on board a Malaysia Airlines are feared dead after the flight was reportedly shot down in Ukraine near the Russian border on Thursday. The Boeing 777, which was on its way from Amsterdam to Kuala Lumpur, was "shot down" while cruising at an altitude of 30,000 feet.The incident comes nearly four months after the mysterious disappearance of MH370 in the Indian Ocean.  The Boeing 777 was carrying 280 passengers and 15 crew.
The plane could have been brought down by a ground-to-air missile, sources said. ITAR-Tass news agency reported that the airliner flying at the altitude of over 10,000 metres was supposed to enter the Russian air space at 17:20 Moscow standard time (13:20 UTC).
A video shows huge cloud of smoke coming from the suspected area of crash.

"However, it fell down in 60 kms from the border; the plane's emergency location beacon went off," the agency reported quoting sources.
Today's crash comes four months after the Beijing-bound Malaysia Airlines MH 370 disappeared with 239 people including five Indians on board after taking off from Kuala Lumpur on March 8. The plane has still not been found.
The airline tweeted about losing contact with the flight.
Malaysia Airlines has lost contact of MH17 from Amsterdam. The last known position was over Ukrainian airspace. More details to follow.

— Malaysia Airlines (@MAS) July 17, 2014
The plane crashed in a conflict-hit zone near Donetsk in eastern Ukraine, according to media reports. The plane did not enter Russian airspace. The report also cited the Ukrainian interior ministry as saying that all 295 people on board are feared dead.