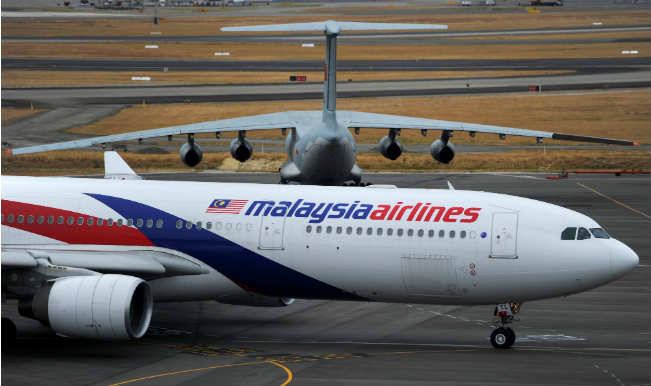 Kuala Lumpur/Kiev, Jul 17: All 295 people on board a Malaysia Airlines plane were feared dead today after the aircraft was reportedly shot down over war-torn eastern Ukraine near the Russian border, nearly four months after the mysterious disappearance of MH370 in the Indian Ocean.
The Malaysia Airlines Boeing 777 was flying from Amsterdam to Kuala Lumpur carrying 280 passengers and 15 crew.
The passenger liner came down close to the town of Shaktarsk in Ukraine's rebellion-wracked region of Donetsk after disappearing from the radar and teams from the emergency services were trying to reach the scene, Russian media quoted an unnamed security source as saying.
Malaysia Airlines confirmed on Twitter, "Malaysian Airlines has lost contact of MH17 from Amsterdam. The last known position of the plane was over Ukrainian airspace".
Malaysia's Star newspaper quoting sources said the plane was "shot down" while cruising at an altitude of 30,000 feet. Ukraine Interior Ministry said 295 people are feared dead in the crash, it said. The plane could have been brought down by a ground-to-air missile, sources said.
ITAR-Tass news agency reported that the airliner flying at the altitude of over 10,000 metres was supposed to enter the Russian air space at 17:20 Moscow standard time (13:20 UTC).
"However, it fell down in 60 kms from the border; the plane's emergency location beacon went off," the agency reported quoting sources.
Today's crash comes four months after the Beijing-bound Malaysia Airlines MH 370 disappeared with 239 people including five Indians on board after taking off from Kuala Lumpur on March 8. The plane has still not been found.
A number of Ukrainian military planes have been shot down by missiles in recent weeks. Ukraine has accused Russia's military of supplying advanced missiles to the rebels, the BBC reported.
Earlier on Thursday, Ukrainian officials blamed the Russian air force for shooting down one of its ground attack jets on Wednesday. Tensions have been high between Ukraine and Russia since street protests forced former pro-Moscow President Viktor Yanukovych from power in February. Russia subsequently annexed Ukraine's southeastern Crimea region and a pro-Russia separatist rebellion has been raging in Ukraine's eastern Luhansk and Donetsk regions.
Ukrainian forces have been struggling to quell the separatist unrest. Ukraine's government has accused Russia of allowing weapons and military equipment, including tanks, to cross the border illegally into the hands of pro-Russia separatists.