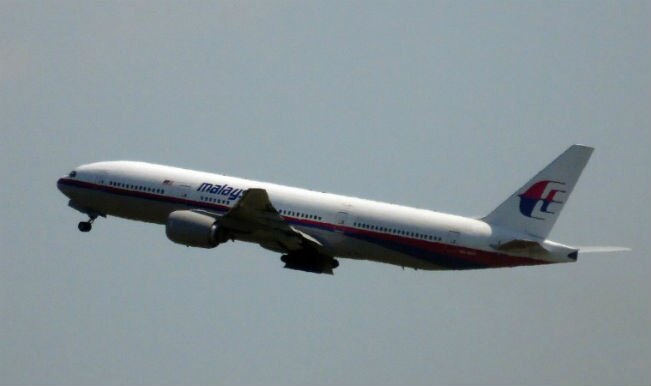 Still unable to answer the mysterious disappearance of flight MH370, Malaysian Airlines suffered a body blow on Thursday when its Kuala Lumpur bound flight with 280 passengers and 15 crew was reportedly shot down over eastern Ukraine.
Pro-Russian rebels fighting central Kiev authorities claimed that the Malaysian airline that crashed in Ukraine had been shot down by a Ukrainian jet.
"Witnesses watching the flight of the Boeing 777 passenger plane saw it being attacked by a battle plane of the Ukrainian forces," the government of the self-proclaimed Lugansk People's Republic said in a statement. "After that the passenger plane split in two in the air and fell on the territory of the Donetsk People's Republic," said the statement, adding that the Ukrainian jet was shot down afterwards.
Ukrainian President Petro Poroshenko said the jet crashed over rebel-held eastern Ukraine and may have been shot down. "We do not exclude that the plane was shot down and confirm that the Ukraine Armed Forces did not fire at any targets in the sky," Poroshenko said in a statement posted on the president's website.
The airline tweeted about losing contact with flight MH17.
Malaysia Airlines has lost contact of MH17 from Amsterdam. The last known position was over Ukrainian airspace. More details to follow.

— Malaysia Airlines (@MAS) July 17, 2014
The aircraft was travelling from Amsterdam was expected in the Malaysian capital on Friday.
Regional officials in Donetsk in eastern Ukraine confirmed the plane had come down near the town of Shaktarsk. Emergency services were rushing to the scene, a security source told Interfax-Ukraine.
"I am shocked by reports that an MH plane crashed," Malaysian Prime Minister Najib Razak said on his Twitter feed. "We are launching an immediate investigation."
Kiev earlier accused Russia of downing a Ukrainian military plane on a mission over the east of the country, stoking tensions in the growing conflict on the edges of Europe that has claimed over 600 lives.
Malaysian Airline flight MH370 went missing on March 8 with 239 passengers and crew on board and is now believed to have diverted off its flight path and crashed in the remote Indian Ocean. No trace of the plane has yet been found.