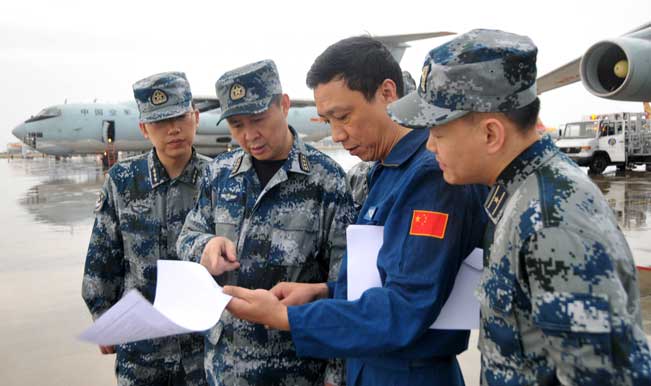 Canberra, Mar 22: Search operations for the missing Malaysian airliner resumed Saturday in the southern Indian Ocean, the Australian Maritime Safety Authority (AMSA) stated, adding the weather conditions are good in the search area.
"The search operations for the missing plane have resumed today (Saturday). The weather conditions are good," an AMSA spokesperson told IANS on the phone in Canberra.
The AMSA said so far no sightings have been reported and the current search area, about 2,500 km of Australia, was identified based on satellite images provided by the Australian Geospatial-Intelligence Organization Thursday morning.
Analysis of the satellite images identified two objects possibly related to the missing passenger jet. The images have been assessed to be credible but it is also possible that they are not related to the missing plane, AMSA said.
Malaysia Airlines flight MH370 vanished mysteriously about an hour after taking off from Kuala Lumpur March 8.
The Boeing 777-200ER was initially presumed to have crashed off the Vietnamese coast in the South China Sea. The plane was scheduled to land in Beijing at 6.30 a.m. the same day. The 227 passengers on board included five Indians, 154 Chinese and 38 Malaysians.
Contact with the plane was lost along with its radar signal at 1.40 a.m. when it was flying over the air traffic control area of Ho Chi Minh City.
In its latest media statement, the AMSA said it has tasked three Royal Australian Air Force (RAAF) P3 Orions, a New Zealand P3 Orion and two ultra long-range commercial jets to search a 36,000-sq-km area.
The two commercial jets and a RAAF P3 Orion will be the first aircraft to depart from Perth for the search area. These aircraft were due for departure around 9 a.m.
A total of 10 State Emergency Service (SES) volunteers from Western Australia have been tasked as air observers on the commercial jets. On Friday, seven SES volunteers from the Australian state of Victoria were also tasked as air observers.
The AMSA runs a training programme across the country to train SES volunteers in air observation for searches such as this.
Two merchant ships are also in the search area.
Six merchant ships have assisted in the search since a shipping broadcast was issued by the AMSA Monday.
The Royal Australian Navy's HMAS Success is also en route to the search area and is due in the area late Saturday afternoon, the AMSA said.