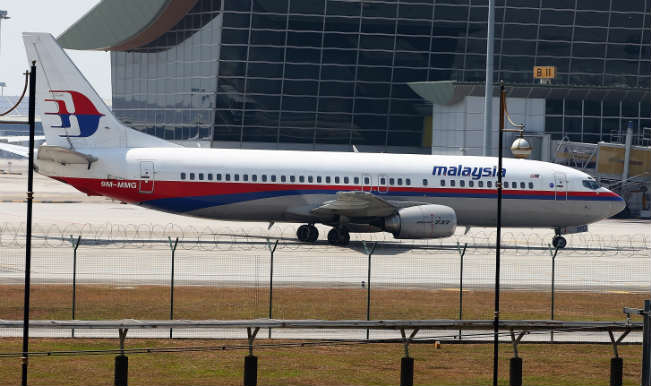 Beijing/Kuala Lumpur, Mar 8: A Malaysian airliner with 239 people, including five Indians, on board en route to China has gone missing and is presumed to have crashed today in the seas between Malaysia and Vietnam where a massive search is on.
The Boeing 777-200 Flight MH370 with 227 passengers, including two infants, from 14 different nationalities and 12 crew members disappeared at 0240 local time (23:10 IST) last night. Malaysia Airlines said the last point of contact with the plane was approximately 120 nautical miles east of Kota Baru in South China Sea.
The airlines group chief executive officer Ahmad Jauhari Yahya said a search and rescue mission had been launched in the area after the aircraft lost contact.
"We have contacted both the Malaysian and Vietnamese authorities as it is actually the borderline of Malaysian airspace and Vietnam control," he said at a press conference in Kuala Lumpur.
Earlier, Vietnamese newspaper Tuoi Tre (Youth) quoted RearAdmiral Ngo Van Phat, political commissar of the Fifth Naval Region of Vietnam, as saying that the plane had crashed. However, Malaysia's transport minister Hishammuddin Hussein said he had "no information" or confirmation on the plane's fate. He said, he was pressing Vietnam's navy for details.
"We are doing everything in our power to locate the plane," he said.
According to the information obtained by the Indian Embassy in Beijing, the Indians on board were identified as Chetna Kolekar, Swanand Kolekar, Suresh Kolekar, Chandrika Sharma and Prahlad Shirsatha. One Indian-origin Canadian Muktesh Mukherjee was also on board.
The Civil Aviation Administration of China has been informed by Vietnamese civil aviation authorities that Vietnam, Malaysia and Singapore are conducting a joint search for the plane. China has kept its aircraft on standby to locate and rescue the missing plane.
Yang Chuantang, Chinese Minister of Transport (MOT), announced the launch of the "highest-degree" emergency response mechanism, state-run Xinhua news agency reported. Vietnam launched a search while the Philippines said it was sending three navy patrol boats and a surveillance plane. China sent two ships.