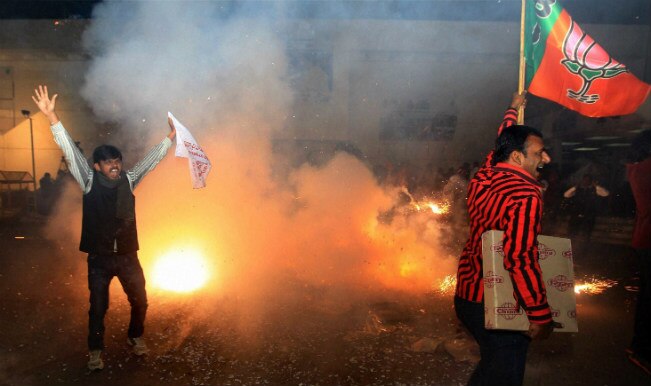 Hyderabad, Feb 20: The passage of Telangana Bill in Rajya Sabha today marks the realisation of a demand which cropped up almost 60 years ago and saw a journey punctuated by violent agitations and stiff resistance from certain quarters.
The Andhra Pradesh Reorganisation Bill, 2014, which envisaged creation of a separate state of Telangana, was passed by the Lok Sabha on Tuesday last and received the Upper House's nod today, bringing to an end a long-drawn legislative process which had its share of acrimony, high drama inside and outside Parliament and also generated intense political heat.
The separate statehood agitation is based on the contention that "justice" has not been done to Telangana in distribution of water, employment opportunities and development funds in Andhra Pradesh, the first state in the country to be formed on linguistic basis.
The protagonists of "integrated Andhra", however, dismiss the notion of injustice and assert the region has witnessed rapid development in all spheres since the formation of Andhra Pradesh.
Interestingly, a spirited agitation for formation of separate Andhra state, delinking Telangana, popularly known as "Jai Andhra" movement, had also taken place in 1972.
There have been a number of milestones in the saga of separate Telangana. The formation of AP on linguistic basis by merging Telugu-speaking areas in erstwhile Madras state and the princely state of Hyderabad was preceded by a long fight by Andhraties for a separte state.
The Andhra people had been struggling for the formation of a separate Andhra Province out of Madras state since the British period but did not succeed. When India attained Independence, they hoped their long-cherished desire would be realised soon. But it was not to be.
However, the moment of reckoning came when Potti Sriramulu, a Gandhian, began a fast-unto-death which was largely ignored by the Centre. Sriramulu attained martyrdom on December 15, 1952, which led to a popular upsurge.
The government of Jawaharlal Nehru was taken aback by the agitation. The PM announced in Lok Sabha in 1952 that the Andhra state would be formed. On October, 1 1953, Andhra state came into existence with Kurnool as capital.
PTI