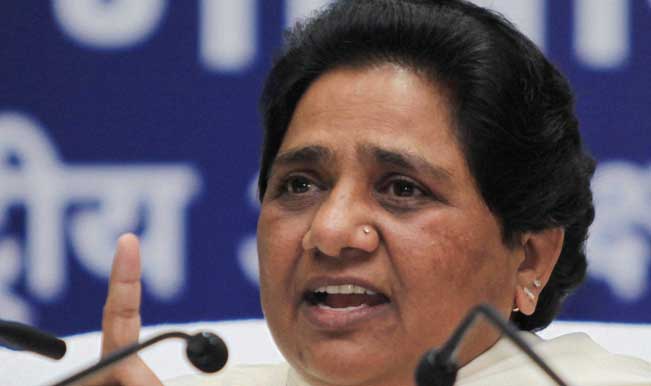 New Delhi, July 16 : Bahujan Samaj Party (BSP) chief Mayawati on Wednesday criticised Uttar Pradesh (UP) Chief Minister Akhilesh Yadav for slashing the budget allocation for women's commission after an Right to Information (RTI) query revealed that the state government has constantly slashed its budget allocation to the state women's commission but has enough funds to purchase two Mercedes cars and two Land Cruisers.
Recalling the public welfare schemes launched during BSP's rule in UP, Mayawati said, "When the BSP was in power in UP we started various public welfare schemes in the favor of backward, Dalits, low caste, poor, Muslims, youth, workers, lawyers, farmers, laborers and small scale businessmen.
She alleged that the Samajwadi Party (SP) Government closed all the schemes which were started by the erstwhile BSP Government. She also criticised SP government for attracting the youth during their initial days by distributing laptops and making fake claims of giving them jobs and taking measures for safety of women. "The people of Uttar Pradesh understand everything and will give the answer to the SP government during elections," said Mayawati.
Moreover, talking about the ongoing power crisis in the sate and deteriorating law and order situation, Mayawati said that the people never faced any such problems during the BSP rule. "UP is currently facing power crisis but this was not so during BSP rule. The law and order situation has also worsened as there is complete anarchy in the state. We have always opposed SP. The people are very disappointed. Poor law and order is hampering development, I have said earlier also that there should be president rule in UP," she added.
Along with the SP, Mayawati also blamed the Bharatiya Janata Party (BJP) for taking law and order in their hand, and condemned the party for the recent Kanth violence in Moradabad. An RTI query has revealed that the state government has fewer funds to provide to the State Women's Commission, but has segregated separate funds to purchase two Mercedes cars and two Land Cruisers. It was also revealed that the state government has slashed the allocations to the commission by over 85 percent in the last three years.