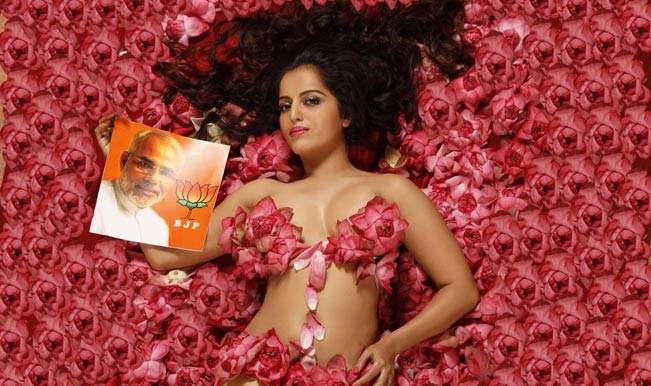 Mumbai, Feb 13: The website of actress Meghna Patel who recently showed her support for BJP prime ministerial candidate Narendra Modi, crashed after her pictures went viral.
Patel did a photoshoot covering her assets with a placard urging people to support Modi. In another photo she has covered her body parts with BJP's symbol, Lotus.
In a statement released on Thursday Patel claimed that the huge surge in the traffic after her semi-nude pictures went viral on the social media her website crashed. She said, "My site has not been working from last night.  It happened when all fans who supported Narendra Modi has come to the site and my website got crashed because of traffic. (Click here to see pics)
Another small time actor Tanisha Singh came out with her set of pictures declaring her support for Congress vice president Rahul Gandhi. Like Patel her pictures also went viral.
Patel said, "Narendra Modi is the man of today. He is the embodiment of valour who lives in hearts of millions of people. Narendra Modi is all set to make India free from corruption, inflation and making it a prosperous and powerful India. He is a "person of great prominence" on India's political landscape and has worked for the development and prosperity in his state. People will vote for him to make the India better. We all love you Mr Modi".
She said the fact that her site crashed showed the huge number of followers BJP leader on the internet.
Patel claimed that her photos were 'done in a very artistic and aesthetic' way. She appealed to people to support Modi and "make him the Prime Minister as he is the only one who can give us stable government and take India on top of the Map in the world."