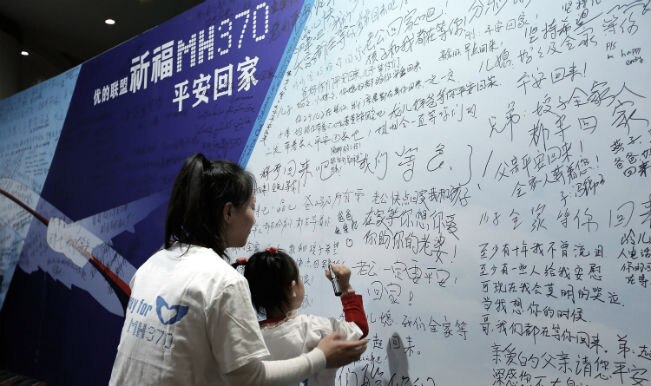 Beijing, March 26: Grief and tears continued to torment relatives and Chinese netizens even as the search operation for the Malaysian airliner flight MH370, that went missing March 8 and was later declared "lost", continued Wednesday.
Those who have loved ones on board the plane still expect to see husbands, wives, parents and kids back from an unknown journey.
A message sent by Malaysia Airlines saying that the plane "has been lost and that none of those on board survived" has dashed nearly all hopes, and a notice board in the Metro Park Lido Hotel in Beijing where daily briefings were held, is full of wishes, Xinhua reported.
"I have bought a diamond ring. I want you to come back and wear it on our wedding day," one message read.
"Dear father, please come back, it is so much painful for me to live the days without you," said another
"Honey, our son and I will always be waiting for you," yet another message read.
Netizens are yet to come to terms with what exactly the "type of analysis never before used in an investigation of this sort" is, despite an explanation of the doppler effect, which measures the change of frequency of satellite connections with the aircraft.
The wording that the missing plane "ended" in the southern Indian Ocean also caused some debate on whether it referred to a crash.
"Truth, only the truth, is the best way to offer our respect to those who may have passed away," said netizen "Chouyi" on Chinese microblogging site Sina Weibo.
Tennis star Li Na also expressed similar disbelief, writing on her Tencent Weibo account that "everybody looks forward to the truth".
China has demanded that Malaysia provide the satellite data which led to its decision that MH370 ended in the Indian Ocean, as Vice Foreign Minister Xie Hangsheng Monday urged the Malaysian side to "make clear the specific basis on which they came to this judgment".
Malaysia Airlines flight MH370 vanished mysteriously about an hour after taking off from Kuala Lumpur shortly after midnight March 8.
The plane was scheduled to land in Beijing the same day. The 226 passengers on board included five Indians, 154 Chinese and 38 Malaysians.
The plane lost contact along with its radar signal when it was flying over the air traffic control area of Ho Chi Minh City in Vietnam.
At a press conference in Kuala Lumpur Monday, Malaysian Prime Minister Najib Razak said British investigators from its Air Accidents Investigation Branch (AAIB) have confirmed flight MH370 "ended in the southern Indian Ocean".
"Based on their new analysis, Inmarsat and the AAIB have concluded that MH370 flew along the southern corridor, and that its last position was in the middle of the Indian Ocean, west of Perth," he added.
The multinational search for the lost passenger jet continued Wednesday in the southern Indian Ocean, 2,500 km southwest of Perth, the capital of Western Australia.