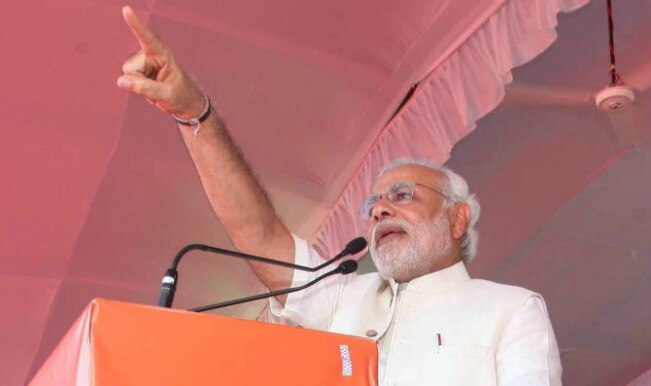 On a scathing reply to NCP Chief Sharad Pawar who said that the Narendra Modi cannot escape the moral responsibility post Godhra riots, Modi after visiting Vidharba in Maharashtra said that the ruling party has not done much for the farmers and the packages issued by them has not reached the farmers.
He said that the farmers in Wardha in Vidharba are forced to die miserably and place is now known for farmer suicides. (Read: Modi speaks of new formula to help farmers)
He said, "In their greed to get foreign exchange, this government has harmed farmers." He also added saying, "Farmers are dying but the government is sleeping."
Pointing out on Sharad Pawar he said that the Union Agriculture Minister should answer for the ban that was placed on the export of cotton when harvest, prices and global demand were on the positive side.
Modi further said, "The first guarantee given by any government should be that it will not let farmers die."
Complaining on the flaws on the Congress government Modi said, "Neither do they understand the nation nor do they know the path to take India ahead, they only want to win elections."
In an attempt to garner votes he said that the BJP is committed to bring changes in farmer's lives. They will increase their income thus boosting the purchasing power of the villagers. He also urged the people to vote for the BJP-Shiv Sena alliance and not for Congress or NCP.
He further said in a derisive tone, "We talk of changing fortunes of farmers but they say stop Modi, we say stop corruption and price rise they say stop Modi."
While Aam Aadmi Party leader, Arvind Kejriwal took on to Modi saying that there had nearly 800 farmer suicides in Gujarat during his rule.
After Wardha, Modi will be visiting the hailstorm-hit village in Yavatmal, which has the maximum farmer suicides and Dabhadi where he will be interacting with the villagers about tea plantation.
Kishore Tiwari the President of Vidarbha Janandolan Samiti who had been documenting farmer suicides in the region since 2001 has asked the BJP's Prime Ministerial candidate to interact and understand the issues of the widows of farmers.
After visiting Wardha, Modi also stepped into the Sevagram Ashram and 'Bapu Kuti' where Mahatma Gandhi resided during his stay in the ashram.