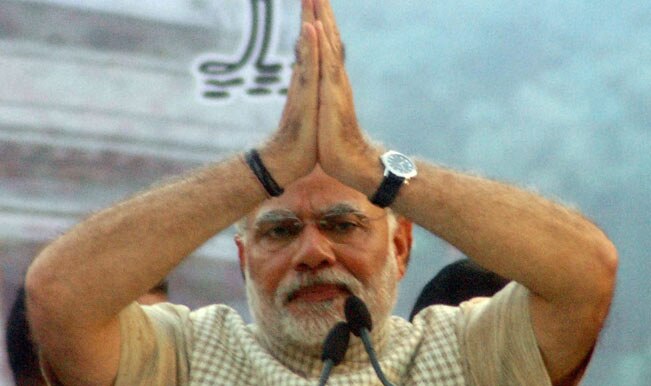 New Delhi, May 20: In a rather rare show of his emotional side, Bharatiya Janata Party (BJP) prime ministerial candidate Narendra Modi today broke down while addressing the BJP parliamentary board meeting in the Central Hall of the Parliament.
Modi was referring to senior Party leader L K Advani's comment that Modi should oblige the party. He said like India which is his motherland, BJP too was like a mother to him. He said a son cannot be bigger than his mother.
Modi expressed gratitude towards party MPs for the unanimous election. Atal Bihari Vajpayee's presence would have been icing on the cake. Senior BJP leader L K Advani who proposed Narendra Modi's name said it is historic day for all of us. Advani congratulated Modi on the huge support he got in the elections. BJP parliamentary board on Tuesday elected Narendra Modi as its Parliamentary Group leader after senior BJP leader L K Advani proposed his name. Murli Manohar Joshi, Venkaish Naidu, Nitin Gadkari, Sushma Swaraj, Arun Jaitley, Gopinath Munde, Ravi Shankar Prasad, Shahnawaz Hussain second Modi's nomination.
BJP president Rajnath Singh who chaired the BJP parliamentary board meeting, announced Modi's election.