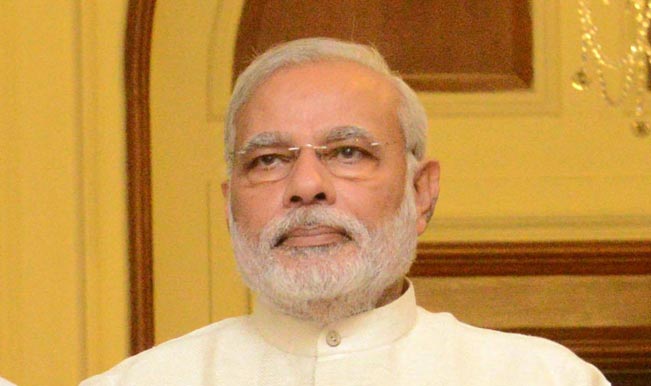 President Pranab Mukherjee in his joint address to both the Houses of Parliament on Monday listed the priorities of Narendra Modi-led NDA government and also the initiatives taken by the new government. Mukherjee in his address provided the road map of the Modi government for various sectors and sections of the society.
We list the top priorities of the government as shared by the President Pranab Mukherjee with the Rajya Sabha and Lok Sabha MPs:
1.      Bold Gesture
It was an uncommon gesture by the new Government by inviting SAARC leaders to the swearing-in ceremony. It clearly showcases that the government wants to build a strong and healthy relationship for better future prosperity which will not only provide a complete end to terrorism but will also help in growth and development of the country.
2. Encourage Economy
The situation of current economy is troublesome; yet government is trying their best to put back India immense growth path. This agenda can be achieved when there is curbing of inflation, regaining the investment, stimulating jobs, gaining back the confidence of domestic as well as international economy and reduction of tax.
3. Ganga River
Government will soon start working on cleanliness of Ganga River and will ensure everlasting flow in the river. Ganga River symbolises the faith of all citizens, termed to be mother of other Gods and her divinity is immediate and everlasting.
4. Sports
Sports will see growth and development with announcing National Sports Talent Search System for the overall development of sports.
5. IITs and IIMs
Setting up of IIT's , IIM's and national e-library in every state will help in nurturing the mindset of youth and will also lessen the gap between personal development, skills, formal education etc. Establishing of virtual classrooms and framing national education policy.
6. Women
Tough and immediate action to be taken against any violence caused to women and ensuring 33 per cent reservation in the Parliament. Launching various campaigns like "beti bachao, beti badhao", "Save Girl Child" and against sexual violence and effective steps against any crime related to women.
7. Infrastructure
Government to face great challenge while eliminating poverty, creating and restoring confidence in bureaucracy, improving strategies with China and Japan, launching of E-Bhasha which is the national mission, protecting the environment, getting rid of terrorism, development of infrastructure plans, promoting labor, creating more jobs, reviving PDS etc.
8. Manufacturing Hub
There is a constant need to transform and develop India as emerging manufacturing hub by way of setting up world class investment in industrial regions; giving way to more and more growth and development.
9. Health
National Health Assurance Mission to be set up and also formulation of a new health policy which will promote Yoga, exercise and AYUSH; basically everything from the health sector to keep the citizens fit.
10. Food and Agriculture
Containing food inflation is top priority of the government with focus on improving supplies and price of farm, keeping a check on black marketing, hoarding, contingency plans during monsoon seasons.