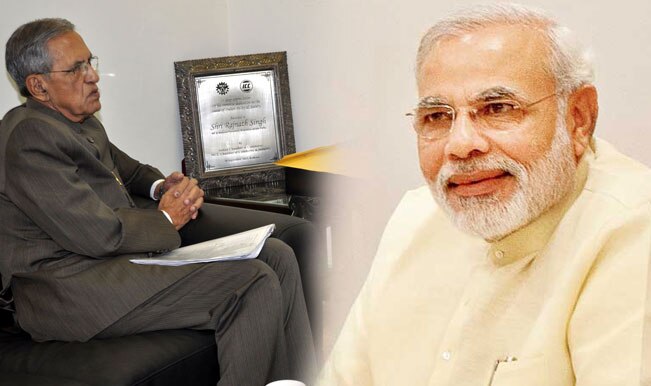 New Delhi, June 17: With pressure building on Governors of five states to step down, Uttar Pradesh governor B L Joshi resigned after it was reported that Narendra Modi government may remove him. There were speculations since morning that Modi government has asked UPA-appointed Governors to step down.
It is reported that the Governors appointed by the Congress-led UPA government, who have less than six-months left will be spared and they are likely to stay. If the term of the UPA-appointees ends after more than six months than those Governors will be asked to step down by the Modi government.
Commenting on the ongoing speculations, the newly appointed governor of Kerala Sheila Dikshit refused to answer on the issue saying "I cannot react to the rumours brewing in media."
The President's office is reportedly to ask for the resignations of the present Governors.
Earlier, senior Bharatiya Janata Party (BJP) leader Subramanian Swamy said the incumbent governors were appointed in UPA tenure by Sonia Gandhi and not on merit. The governors should have resigned by themselves, by now.
The other governors who are asked to step down are Sheila Dixit (Kerala), Ram Naresh Yadav (Madhya Pradesh), MK Narayanan (West Bengal) and Shivraj Patil (Punjab). It was reported that the Modi-led NDA is also pondering to replace governors of another eight states in which the governors are to retire by the end of this year.
The BJP has followed the example set by the UPA government. Under the regime of Dr Manmohan Singh, the UPA government replaced the governors appointed by the NDA government.
Haryana's Babu Parmanand, UP's Vishnu Kant Shastri, Goa's Kidar Nath Sahani and Gujarat's Kailashpati Mishra; were the governors who were replaced by the new appointees of the UPA government.