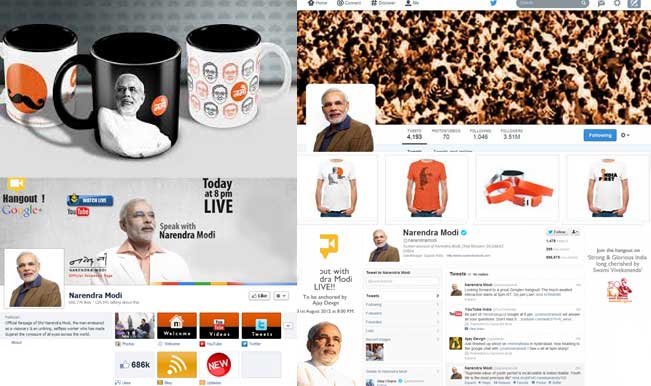 NaMo magic has waved almost everywhere
Narendra Modi's presence on social media and his desire to connect with the youth is just amazing. The Prime Minister-designate and his team built social presence over the years and were engaging themselves mostly with the youth of the country. Narendra Modi is extremely active on social networks which shows how he is using social network to be different and popular from the rest.
This trend not only made him popular in India but also in the entire world. Before getting connected with the social network, Narendra Modi came up with his website, where he tried to express his own views on several on-going topics and events. He is mostly active on Twitter and maintains his own blog. Narendra Modi dominates the news scene as he is always ahead and gets updates from his team. His strategy to reach out to as many people as he can has worked for the party in the just concluded Lok Sabha elections.
We list some of the social media platforms that Modi has been using:
1. Twitter:
No words will be enough to salute the youth of India. They led from the front in the elections & rose above non-issues like caste & creed.

— Narendra Modi (@narendramodi) May 16, 2014
Narendra Modi was of the first Indian politician who reached out to the public in an systematic and approachable form i.e. twitter. @narendramodi joined Twitter in January 2009 and his number of followers now stands at more than 900,000, which is way ahead of any other leader. The objective behind this was interact with the youth via these networks.
2. Google +:
He actually had planned an event on Google + Hangout on 31st August. He asked people to post questions on the website which had Facebook and Twitter logged in that. The traffic for event was phenomenal and had more than 6,000 questions not only from India but from other countries as well. Even share of all questions #ModiHangOut was trending days after the event.
2. Facebook:
Narendra Modi has an official page on Facebook on May 5th, 2009 which has more than 11,245,296 likes and there are even pages which say 'I want Narendra Modi as Next PM of India', 'I Support Narendra Modi' and 'Narendra Modi For PM'.
3. Youtube 
Narendra Modi's YouTube channel has a huge number of followers with more than 11 lakh subscribers at the last count and more number of viewers. His channel also beams major events live including his public meetings and other events. This has ensured that Modi reaches out to the audience and the videos can be seen long after the event is over.
4. Blogger Modi
Modi has managed the blog very well by offering his views and opinion on everything. . "I was shaken to the core. 'Grief', 'Sadness', 'Misery', 'Pain', 'Anguish', 'Agony' – mere words could not capture the absolute emptiness one felt on witnessing such inhumanity," he wrote in December last year after the 2002 riots verdict. The riots were seen as roadblock in his wider acceptability.
5. Namo Merchandise:
Modi is also trending on mugs, sarees, store, fire works, T-shirts, tea stalls, and much more. There are specially NaMo brand which is trending and which has a huge demand.
What do you think about Narendra Modi's social media presence and has the social presence influenced you? Do let us know in the comments section below.