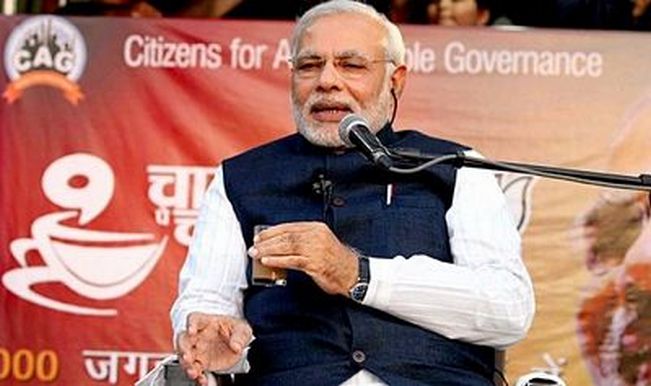 Ahmedabad, Feb 12: Bharatiya Janata Party (BJP) prime ministerial candidate Narendra Modi on Wednesday kickstarted his Chai Pe Charcha nationwide campaign from Ahmedabad. Modi said while addressing people from a tea stall here today, "In our country, a tea stall serves as a means of livelihood for the poorest of the poor. In a way, a tea stall serves as a 'footpath Parliament'. While sipping a cup of tea, we always discuss a variety of issues, whether they are local, regional, national or international,".
"I have learned a lot when I was selling tea. I got an opportunity to interact with a lot of people. I used to listen to the people while they were discussing issues. It was an experience," he added.
Modi also said that we hear 'good governance' as a word, but don't actually know what it means.
"No matter how healthy a body looks, but once if get diabetes, your body plays host to too many ailments. Bad governance is like diabetes. After that corruption joins it too. Devastation starts and any sign of development are wiped out. In a country like India, we should stress on good governance," he added.
The programme, which is being relayed live at 1,000 tea stalls in about 300 cities, is a part of his election campaign for the upcoming general elections. Giant screens have been placed in at every location. Modi is answering the questions of people while sipping a cup of tea. ANI