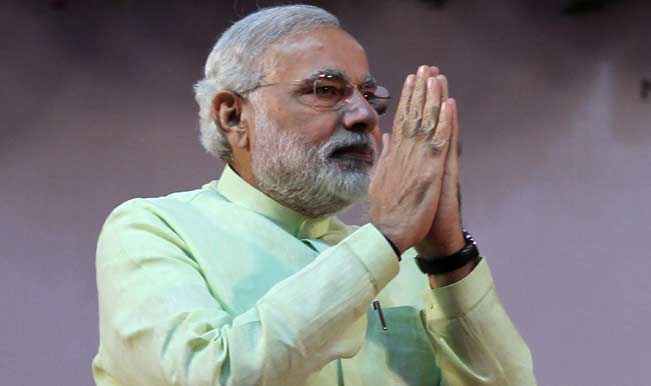 New Delhi, May 26: BJP's Prime Minister-designate Narendra Modi visited Rajghat Monday morning to pay homage to Mahatma Gandhi ahead of his swearing-in as the 15th prime minister of India.
The BJP leader was accompanied by the newly elected Delhi BJP MPs and party spokesperson Prakash Javdekar among others. After paying homage Modi spent a few minutes in silence. He also greeted the people present at Rajghat.
Modi takes oath at 6 p.m. at Rashtrapati Bhavan. The ceremony would last approximately one hour and 10 minutes, said officials of Rashtrapati Bhavan, refusing to divulge the number of ministers expected to be sworn in. The guest list includes, besides the foreign leaders, foreign diplomats, members of the former council of ministers, constitutional heads, 777 MPs of both houses, chief ministers, governors and media persons. Some corporate leaders are also expected to attend the swearing in.