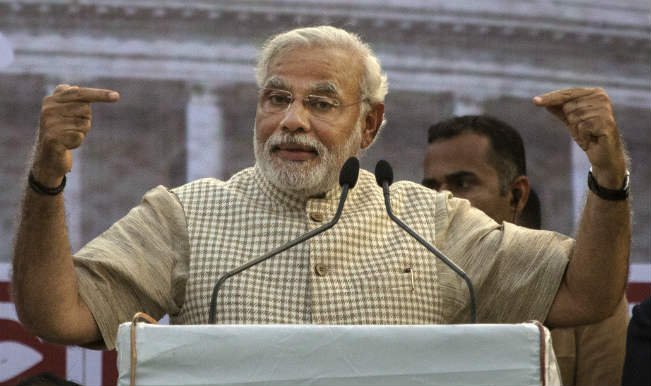 New Delhi, May 26: Narendra Modi will take oath as the 15h Prime Minister of India on Monday evening in one of the most expensive swearing-in ceremony that India has witnessed. President Pranab Mukherjee will administer oath to the new cabinet. The free live streaming of the swearing-in ceremony will be available at various government websites in addition to the news channels.
Narendra Modi led BJP to a resounding victory in the Lok Sabha Elections 2014 with BJP managing to have a majority on its own. The saffron party won a total of 282 seats while the NDA combine has a total of 336 seats in the 543 member Lok Sabha. Modi was elected as BJP parliamentary group leader and NDA group leader. According to sources the cabinet is likely to have 23 Cabinet rank ministers and 10 ministers with independent charge. Modi has offered a cabinet berth each to the alliance partners.
You can watch the live streaming of the swearing-in ceremony to take place in the Rashtrapati Bhawan forecourt from 5.30 PM. The cabinet will also take oath with Narendra Modi. A galaxy of world leaders including Pakistan Prime Minister Nawaz Sharif among others will also be present for the first time as Indian Prime Minister takes oath.
The webcast of Narendra Modi taking oath as Prime Minister of India will be live below
Narendra Modi swearing-in live updates
Watch the live streaming of the Narendra Modi swearing-in ceremony here.