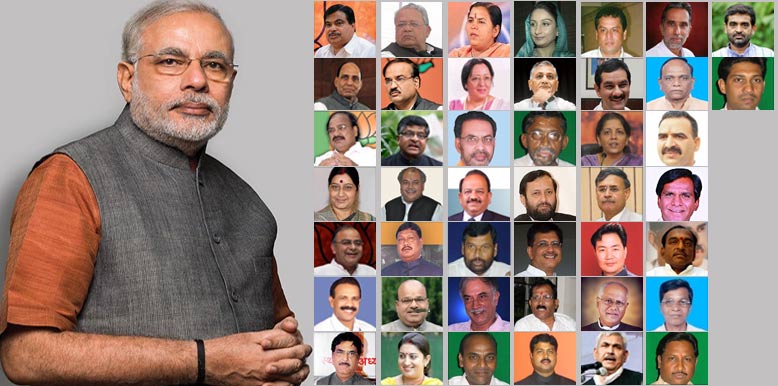 New Delhi, May 26: All the speculations surrounding the Narendra Modi led NDA government have come to an end on Monday, with the compact 45-persons cabinet took an oath at the Rashtrapati Bhawan. Ever since Modi was elected as the NDA group leader and got the invitation from the President Pranab Mukherjee to form the government, the speculations touched new heights. The final list of the detailed portfolios has been sent  to the President and we will come to know who made it to what cabinet tomorrow in the morning.
We list the smart-cum-compact 45-persons cabinet headed by Narendra Modi who'll be given various portfolios tomorrow:
Cabinet Ministers
1.       Rajnath Singh                        
Rajnath Singh was the Cabinet Minister for Surface Transport in the Vajpayee government. He was also a Minister of Agriculture and later for Food Processing in 2003. The BJP president is likely to step down after joining the Modi cabinet.
2.      Sushma Swaraj                       
Sushma Swaraj is a former Union Minister for Information and Broadcasting with additional charge of the Ministry of Telecommunications in the Vajpayee led NDA government's cabinet. Swaraj was also Health Minister for a year in the Vajpayee government. Sushma Swaraj is likely to become External Affairs ministry in Modi cabinet.
3.      Arun Jaitley                            
A former Union cabinet Minister for Commerce and Industry, Law and Justice in Vajpayee's cabinet during the NDA government (1998-2004). Though he contested unsuccessfully in Amritsar, Jaitley is likely to get the Finance portfolio.
4.      M. Venkaiah Naidu                     
An astute leader and a committed party worker, M Venkaiah Naidu hails from Andhra Pradesh. Naidu was a Union Minister of Rural Development between September 30, 2000 and June 30, 2002 in Atal Bihari Vajpayee's government. Later he functioned as the national President of BJP from July 2002 to October 2004.
5.      Nitin Gadkari                         
Nitin Gadkari is a key member of the Narendra Modi's core group.Nitin Gadkari, has earned the distinction of being the youngest BJP president. A first-timer in Lok sabha, Gadkari, 57, has successful run in Maharashtra as a PWD Minister between 1995 and 1999. Gadkari had to step down from the BJP's president post due to serious allegations of corruption.
6.      DV Sadananda Gowda         
Beginning his political career as a member of the Jan Sangh in late 1970s, former Karnataka Chief Minister D V Sadananda Gowda makes his ministerial debut at the Centre. Gowda has been the party President of the Karnataka unit of BJP when the party won the Assembly elections for the first time in South India in May 2008.
7.      Uma Bharti                            
A firebrand leader and Hindutva mascot, Uma Bharti will be a Union minister in an NDA government for the second time. Uma Bharti, who is a former Madhya Pradesh Chief Minister, had to step down after an arrest warrant was isued against her in connection of 1984 Hubli riots. Uma Bharti was re-inducted in the BJP in June 2011.
8.      Najma Heptulla                      
Grand-niece of eminent freedom fighter Maulana Abdul Kalam Azad, Najma Heptullah is the lone Muslim face in the Narendra Modi Cabinet. Heptullah, who was reelected to the Upper House five times between 1986 and 2012, was elected to a one-year term as the deputy chairman of the Rajya Sabha in 1985, and she again served in that post from late 1988 to mid-2004. She joined the BJP in 2004.
9.      Gopinath Munde                    
A former Deputy Chief Minister of Maharashtra, Gopinath Munde, the OBC face of BJP in the state, makes his entry in the Union cabinet for the first time. A five time MLA, Munde's heart has always been in the state politics and harbours the ambition of becoming first BJP Chief Minister of Maharashtra.
10.  Ram Vilas Paswan                 
A seasoned politician, Ram Vilas Paswan was the first to rejoin the NDA which he had quit following the 2002 Gujarat riots. With his latest victory, Paswan will enter Lok Sabha for a record ninth time. He made a dream debut in Parliament in 1977 by a margin of 4.24 lakh votes that took him straight to the Guinness Book of World Records.
11.  Kalraj Mishra                         
A Sangh pracharak and an associate of Jayaprakash Narayan, Kalraj Mishra, a veteran of UP politics, is making his ministerial debut at the Centre. 71-year-old Mishra began his political career as a pracharak of RSS in Gorakhpur in eastern UP in 1963. He contested the just-concluded Lok Sabha elections from Deoria and defeated his nearest BSP rival by a margin of 2.65 lakh votes.
12.  Maneka Gandhi                     
Animal-rights activist Maneka Gandhi made a comeback to the union cabinet as the only member of the Gandhi family in the BJP-led government. The seven-time MP, Maneka Sanjay Gandhi was the first Animal Welfare Minister of the country. In just-concluded Lok Sabha election, Maneka won from the Pilibhit constituency by a margin of over 3 lakh votes.
13.  Ananth Kumar                                   
Ananth Kumar served as Minister for Civil Aviation in the Atal Bihari Vajpayee cabinet. He had also served in ministries like Tourism, Sports & Youth Affairs, Culture, Urban Development and Poverty Alleviation during the NDA rule. Kumar became a 6th time Lok Sabha MP from Bangalore South, defeating Nandan Nilekani by a margin of 2,28,575 votes.
14.  Ravi Shankar Prasad              
Ravishankar Prasad, one of the most articulate BJP leaders, returns to the union cabinet with a bagful of experience. Prasad has held various portfolios such as- Ministry of State Coal & Mines, and later of Law & Justice. Later he held Information and Broadcasting ministry. He is also credited with establising Goa as the permanent site for International Film Festival of India.
15.  Ashok Gajapathi Raju            
Hailing from the titular family of Vizianagaram, TDP MP Ashok Gajapathi Raju Pusapati, is a seven- time MLA in Andhra Pradesh. Ashok, who was elected from Vizianagaram, is the only member from the Lok Sabha to make it to the cabinet rank from residual Andhra Pradesh. The 63-year-old veteran TDP leader defeated YSR Congress candidate by a margin of 1,06,911 votes in the just concluded elections.
16.  Anant Geete                           
Anant Geete is Uddhav's Thackeray's trusted lieutenant in Delhi. He has been elected to the Lok Sabha six times in a row. In the Vajpayee's government regime, he was MoS (Finance), but was soon elevated to the rank of Cabinet Minister and was given an important Power portfolio.
17.  Harsimrat Kaur Badal            
Daughter-in-law of Punjab Chief Minister Parakash Singh Badal, Akali Dal MP Harsimrat Kaur Badal is a second time MP from Bhatinda after defeating her husband Sukhbir Badal's cousin Manpreet Singh Badal. Among the various issues on which Harsimrat has spoken in her first term in Parliament have been concerns related to victims of 1984 riots and matters related to Punjab.
18.  Narendra Singh Tomar           
Madhya Pradesh's BJP chief Narendra Singh Tomar's rise in his political career has been quite significant. 56-year-old Tomar, who made his debut in the Union Council of Ministers, has held several important positions in the party and was instrumental in ensuring a third term for Chief Minister Shivraj Singh Chouhan besides a thumping victory for the party in the Lok Sabha polls.
19.  Jual Oram                               
The 53-year-old BJP stalwart, a firebrand tribal leader who created history by becoming India's first tribal affairs minister in the Vajpayee government, Jual Oram was a face saver for BJP in 2014 lok sabha polls being the party's lone winner from Odisha.
20.  Radha Mohan Singh              
An unsung worker of Jan Sangh and BJP all his life, veteran leader Radha Mohan Singh finally got his reward as a berth in the Narendra Modi government. Singh (64) started his career from Motihari in Bihar in 1967. A five-term MP from Motihari since 1989, Singh has been known as an organisational man and for assiduously contributing to the party's growth in Bihar in the capacity of state unit chief from 2006 to 2009.
21. Thavarchand Gehlot
Thawar Chand Gehlot, one of the most recognised BJP face for Scheduled Castes in Madhya Pradesh, today made it to the senior ranks of the Narendra Modi. 66-year-old Gehlot, a Rajya Sabha member, is BJP's national general secretary. Gehlot has been a MP in the 11th, 12th, 13th and 14th Lok Sabha from Shajapur constituency in the state. He was also deputed as the central observer of the party for Gujarat and is considered close to Modi.
22.  Smriti Irani                             
Smriti Irani's induction in the Narendra Modi ministry represents a crowning glory in her political career. A former National President of BJP's women's wing, Irani now holds the position of Vice President in the party. In a high profile battle of Lok Sabha Elections 2014, she lost but not without putting up an impressive fight that saw Rahul's margin of victory to just over a lakh.
23.  Dr. Harsh Vardhan                
Harsh Vardhan, who has been rewarded with a berth in the union cabinet, is the lone face representing the national capital in Prime Minister Narendra Modi's team. Vardhan, who is president of Delhi BJP, was the party's Chief Ministerial nominee in the assembly polls held in December last year when it emerged as the single largest party.
Minister of State (Independent Charge)
24. Gen. (Retd.) V. K. Singh       
Controversial former Army Chief Gen V K Singh, who was made the Minister of State (Independent Charge) in the Narendra Modi government, has somewhat of chequered past with one episode being a long unsuccessful battle with the UPA government over his age issue. Singh defeated Raj Babbar of Congress from Ghaziabad seat by 5.67 lakh votes.
25. Inderjit Singh Rao                 
Singh, 63, quit the Congress and joined the BJP few months before the elections were announced and successfully contested from Gurgaon defeating AAP leader Yogendra Yadav. Singh has served as the Minister of State for Defence Production and as a Minister of State for External Affairs and chaired the Parliamentary Information technology committee after 2009.
26. Santosh Gangwar                   
65-year-old Santosh Gangwar has been a Lok Sabha member since 1989 barring 2009, when he lost by a narrow margin. This time he has won from Bareilly by a margin of over two lakh votes. He earlier held ministerial posts at the Centre as Minister of State for Petroleum and Natural Gas with additional charge of Parliament Affairs and also Minister of State of Science and Technology.
27. Sripad Naik                                        
Sripad Naik is a fourth term MP from North Goa and was Minister of State in the NDA government. Before being elected to the Lok Sabha for the first time in 1999, Naik, 61, was a member of the Legislative Assembly for seven years. He retained his North Goa LS seat in 2004, 2009 and 2014. As Minister of State, Naik held Agriculture, Shipping, Civil Aviation and Finance portfolios between 2000 and 2004.
28. Dharmendra Pradhan             
Dharmendra Pradhan, a post graduate in Anthropology from the Utkal University in Odisha, is a Rajya Sabha MP from Bihar. He has been rewarded with a ministerial berth for the stunning victory of BJP in Bihar with him as the the party's campaign in-charge.
29. Sarbananda Sonowal                                                 
51-year-old Sonowal is one of the most promising leaders from Assam. Elected to Lok Sabha after defeating Union Minister Ranee Narah in Lakhimpur constituency, he is credited with leading the BJP in the state as president to help it bag seven seats out of 14, raising the tally from four.
30. Prakash Javadekar                  
Prakash Javdekar, 63, is considered close to former party president Nitin Gadkari, a member of Prime Minister Narendra Modi's core group. He was a member of the Maharashtra Legislative Council for two terms from 1990 to 2002 before being elected to Rajya Sabha in 2008. Javadekar also played a role in unearthing cash for vote scam.
31. Piyush Goel                                        
Piyush Goyal, 49, is the BJP treasurer and considered close to Prime Minister Narendra Modi. Goyal heads BJP's Information Communication Campaign Committee that oversees all efforts of the party through internet, mobile and other social media.
32. Dr. Jitendra Singh                              
A physician by profession, Jitendra Singh had joined BJP in 2009 and is a member of the party's National Executive Committee. He is also Chief Spokesperson for the Jammu and Kashmir unit of BJP. Singh (57) contested Lok Sabha election from Udhampur and defeated former Union Minister and veteran Congress leader Ghulam Nabi Azad.
33. Nirmala Sitharaman   
Nirmala Sitharaman is another articulate BJP spokesperson who have been rewarded with a ministerial berth. A serious, at times stern, communicator during TV debates, she is nevertheless liked due to her sincere approach.Not a member of either Lok Sabha or Rajya Sabha presently, she is likely to be nominated to the Upper House by BJP. She is also a former member of National Commission for Women.
Minister of State
34. G M Sidheswara
35. Manoj Sinha
36. Nihal Chand
37. Upendra Kushwaha
38. Pon Radhakrishan
39. Kiran Rijiju
40. Krishna Pal Gujjar
41. Sanjay Kumar Balliya
42. Mansukhbhai Vasava
43. Rao Sabeb Dadarao Danve
44. Vishnu Dev Sai
45. Sudarshan Bhagat