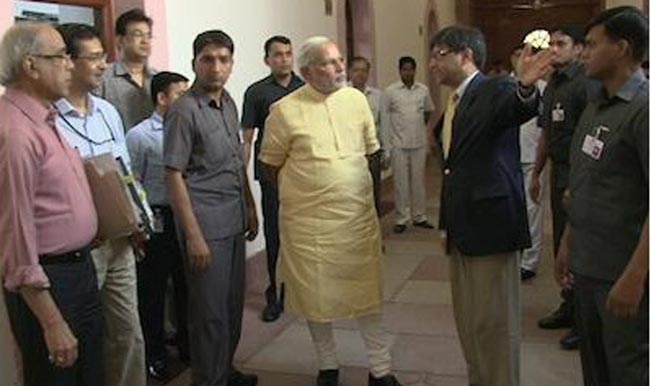 New Delhi, May 29: Prime Minister Narendra Modi said Thursday he "took a round" of the Prime Minister's Office (PMO) here and posted his picture with other officials.
"Took a round of the PMO on reaching south block this (Thursday) morning," Modi said in a tweet.Dressed in yellow kurta and white churidar in the picture which he posted has an official talking to him.
Modi officially took charge as the prime minister Tuesday. Modi, who took oath as prime minister on Monday evening, drove from the Gujarat Bhavan where he is staying to reach the Prime Minister's Office in South Block close to 9 a.m., near the Rashtrapati Bhavan.
Immediately after taking over Modi met SAARC leaders who had come to attend his oath taking ceremony. He held bilateral talks with heads of Pakistan, Nepal, Sri Lanka, Afghanistan, Maldives and Bangladesh speaker.