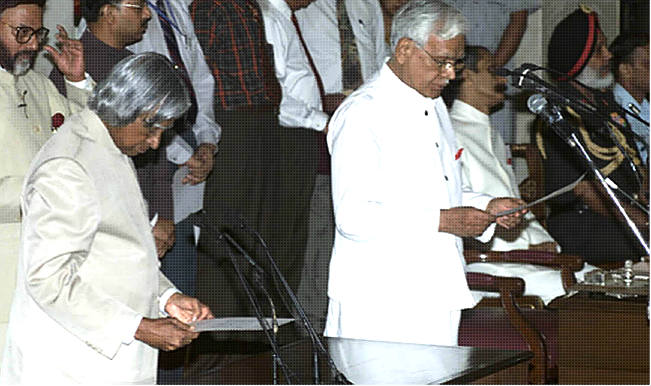 Looks like the stars are really not favouring Congress and Sonia Gandhi and the scenario changing in near future seems unlikely. The humiliating defeat in the Lok Sabha elections 2014 was not enough for the party and it continues to get into trouble. But they need not blame the outsiders, for the fresh trouble is caused by someone who was once close to the first family. So what makes Natwar Singh's case different? Why is Natwar Singh so angry?
Why this sudden burst of anger from Natwar Singh a full 8 years after Congress showed him the door? Is he really trying to make us aware of some major Sonia Gandhi and Congress screw ups in his autobiography 'One life not enough'? Or is this just a way to promote his upcoming book? Or maybe, it's the whole BJP connection that is coming into play!
To understand the present situation we have to go back to 1960s when Natwar Singh became part of Gandhi family but not officially. He was posted to the Prime Minister secretariat in the Indira Gandhi regime. He served in the Indian Foreign Service where he was a career diplomat for three decades.
It was only in 1984 that Natwar Singh joined Congress, the same year in which he received the Padma Bhushan. He was made a junior minister in the Rajiv Gandhi government. In his long political career Natwar Singh has changed no less than four parties.
Natwar Singh initially left the Congress when he fell apart with PV Narsimha Rao in 1989 and formed his own party All India Indira Congress. He returned to Congress when Sonia Gandhi was back at the helm in 1998 and was eventually expelled from the party in 2005 for his alleged role in the oil scam. He joined Mayawati's Bahujan Samajwadi Party (BSP) but was expelled for anti-party activities.
The same Congress against whom he is spitting venom now treated him well and he was the external affairs minister in the first  UPA government in 2005. But the Volcer committee report pitted him against allegations of corruption in the oil for food program in Iraq scam. Although the allegations were against Congress party, Singh was singled out. He briefly served as a minister without a portfolio and later was completely dropped from the government.
Natwar Singh accuses Sonia Gandhi for not shielding him when the Volcer Committee came up with the allegations against him. She decided to chose the UPA government, which was still in its infancy period in 2005 over the Long and cherished friendship. What seems to have hurt Natwar even more is the fact that Sonia didn't give him the chance to deliver his side of the story.
In 2014 the same Natwar Singh is making it more difficult for Congress with his revelations. Singh alleges Sonia Gandhi to be Authoritarian and Machiavellian and a women of less tolerance with dissent to discussion on political matters.
Why is Natwar Singh, after 8 years of political oblivion suddenly making it to media outlets and trying to prove his case, making statements against the Gandhi family and threatening to reveal secrets about their 10 year long government?
Originally one thought that it might just be his way of getting back at the Congress party for whatever they did to him in 2005 in the oil scam case. But there is a certain Jagat Singh who gives this whole incident a different direction altogether politically. Jagat Singh is a BJP MP and also happens to be Natwar Singh's son!
So is Natwar Singh is also trying to make himself available to the BJP by creating all this media flutter against the Gandhi's. Will these events and interviews ultimately lead to Singh joining the BJP and avenging his sacking from the 2005 government? Or is this simply a to promote his upcoming book in an attempt to make some easy money?
Remember Sanjaya Baru who in the middle of the elections came out with a book again revealing how the UPA government functioned and the role of Sonia Gandhi. It would be interesting to see how long this whole drama between the Gandhi's and Natwar Singh lasts.