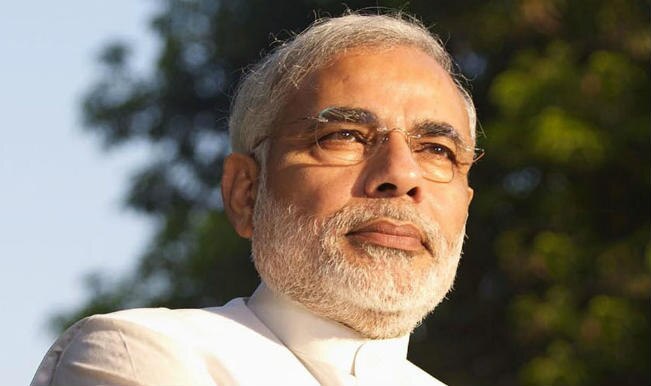 Katra, July 4 : Prime Minister Narendra Modi, who flagged off a new train to Katra on Friday, congratulated the people of Jammu and Kashmir for helping the project see the light of day, and said the new facility will not only be beneficial to Kashmiris, but also to all who want to visit the state.
"On one side, the Amarnath yatra is on, (and) on the other, there is Ramzaan being observed, and on the third, at the feet of Mata Vaishno Devi is a new facility for devotees to connect," Modi said. "Today's events will give speed and energy to Jammu and Kashmir. It is all for the development of the state. This rail link is dedicated not just to Jammu and Kashmir, but to the whole country. The train is for all those people waiting to come to Mata Vaishno Devi's charan (feet). This train should be known as the Shri Shakti Express," he added.
Assuring people that there will be no shortage or obstacles in the development of Jammu, Modi said: "The train is not just to commute, it gives birth to development." He further said this train would enable pilgrims headed to Vaishno Devi to travel directly to the base camp at Katra.
"In one ticket, the passenger can cover travel by train the distance which was earlier covered by train and bus combined," he said. Modi flagged off the inaugural train from Katra in Jammu, the base camp for the Vaishno Devi shrine. Katra-Udhampur rail line is around 25 kilometers long and consists of the 9.4 kilometers long Udhampur-Chak Rakhwal and 15.5 kilometers long Chak Rakhwal-Mata Vaishno Devi Katra sections.
The approximate cost of this section is Rs.1132 crores. The bridge on River Jhajjar is the longest steel girder bridge in India with a height of 85 meters. There are eight tunnels and 29 minor bridges on Udhampur- Katra track.