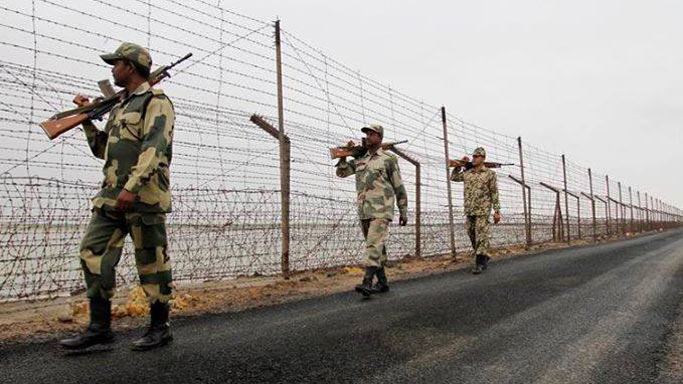 Janglote (Kathua), Mar 28: Heavily-armed suspected Lashkar-e-Taiba (LeT) militants from Pakistan in combat uniform today struck terror in Jammu region in twin audacious attacks, killing three people including a soldier guarding an Army camp gate.
All the three terrorists were killed in fierce gunbattle in a joint operation carried out by the police and the army in Kathua district that lasted nearly 10 hours.
A lesser-known 'Al Shohada Brigade', a shadow outfit of LeT, today claimed responsibility for the twin attacks.
A 'spokesperson' of the outfit called some of the news organisations in Srinagar and claimed responsibility for the attacks that also left four injured.
In a pre-dawn strike, three terrorists, who are believed to have sneaked through Tarlah nallah (canal) from the international border during the night, stopped a jeep carrying pilgrims to Gurdaspur in Punjab near a bridge in Hiranagar.
The terrorists, dressed in army fatigues, ordered the five occupants to alight from the vehicle and after separating the driver, Taraseem Singh, opened fire at them in which a passenger, Ajit Ram, was killed while three others injured –Kamaljeet Singh, Gurpreet Singh and Santokh Singh — were being treated in hospital.
All the three terrorists were killed near the army camp which houses 111 'Rocket Regiment', one of the mainstay of the army in the area.
The area where the encounter took place is 12 kms from border and 100 kms from Jammu city, winter capital of the state. The same route was used by terrorists to enter the state on September 26 last year in which 12 people including Lt Col Bikramjeet Singh was killed.
One Army man identified as Lance Naik V Anthony was killed in the gunfight with militants who also hurled grenades at the army positions. Another soldier was injured.
"We have killed all the three militants in the day long operation and recovered a huge quantity of arms and ammunition from them. The operation has been concluded", Inspector General of Police (Jammu) Rajesh Kumar told reporters here. Before making a failed attempt to attack the army camp, the terrorists killed the driver of the vehicle in a barbaric fashion.
Singh's hands were found tied with his mouth stuffed with cloth and his throat was slit by the terrorists, a chilling reminder of 26/11 Mumbai attacks when terrorists killed Amarsinh Solanki alias Tandel of 'MV Kuber' boat after hijacking it from high seas.
The attacks, which comes ahead of Lok Sabha elections, evoked sharp criticism from political parties which strongly condemned them.
Chief Minister Omar Abdullah said "such barbarian act of terrorists amply expose their anti-human face". Similar views were echoed by his father Farooq Abdullah and Union Minister Ghulam Nabi Azad.
Azad also attended the funeral of Ram, who hails from Hiranagar.
One of the injured told the police that the only word uttered by the terrorists was "utro" (get down) and after which the driver was separated from the passengers who were fired upon.
Giving details, the Inspector General of Police said that "around 4:55 AM today morning, a Bolero vehicle was intercepted by three armed militants near Chadwal bridge (on Jammu-Pathankote highway) and they ordered four members from the vehicle to get down and asked to leave but were fired upon by the militants".
The IGP said the terrorists hijacked the vehicle along with the driver and drove to this Army camp in Janglote. The driver was later killed by them and the body was dumped one kilometre away from the forest area in Janglote.
Large quantity of arms and ammunition were recovered from the slain militants, he said, adding they included three AK-47 rifles, three pistols, several magazines, a large quantity of grenades and IEDs, which were not opened to know their exact number.
Besides this, recoveries included a wireless set, eatables and other items, he added.
To a question about infiltration, Kumar said, "it is being investigated and I will not comment on it as to from where they had entered."
Director General of Jammu and Kashmir Police Ashok Prasad told PTI that immediately after the police control room was informed, all check posts and security establishments were alerted.
Despite bad weather, helicopters were pressed into service to locate the vehicle which was finally spotted in a Nallah (seasonal canal) outside 111 Rocket division in Kathua, he said.
The terrorists failed to get near the Army camp main gate as an alert guard engaged them in gun fire.