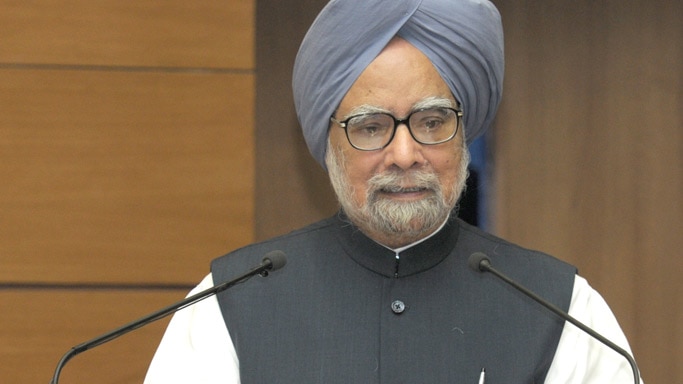 New Delhi, Jan 3: Prime Minister Manmohan Singh declared Friday that he will step down after the next Lok Sabha election.
"In a few months time, after the general election, I will hand the baton over to a new prime minister," Manmohan Singh told the media here. "I hope it will be a UPA chosen prime minister, and our party will work to that end in the campaign for the general elections.  "I am confident that the new generation of our leaders will also guide this great nation successfully through the uncharted and uncertain waters of global change," he added.
Manmohan Singh added: "I will not be a candidate for prime ministership if the UPA comes back to power."
Modi as PM will prove to be 'disastrous'
BJP leader Narendra Modi will prove to be "disastrous" for India if he were to become the prime minister, Singh said.
"Without discussing the merits of Narendra Modi, I sincerely believe that it will be disastrous for the country to have Modi as the PM," Manmohan Singh told the media here. He added that he was fully confident that the next prime minister, after the Lok Sabha election, will also be from the Congress-led UPA coalition.
Inflation remains a big concern
Singh said inflation remained unexpectedly high and adequate jobs were not created in the manufacturing sector during his decade long tenure.
"I am concerned that we have not been as successful as we need to be in generating employment in the manufacturing sector. This is an aspect of performance which we are working hard to correct," he told the media. "We need a much stronger effort in support of small and medium enterprises which can be a major source of good quality employment. Our manufacturing strategy gives high priority to this objective for the future," he said.
Manmohan Singh said the second biggest concern on the economic front was inflation. "We have also not been as successful in controlling persistent inflation as we would have wished," he said. "This is primarily because food inflation has increased. However, we should remember that our inclusive policies have put more money in the hands of the weaker sections.
"To keep food prices in control, we need to increase supplies and also improve marketing arrangements and logistics. This is especially important for items which are perishable such as fruits and vegetables," he added. IANS