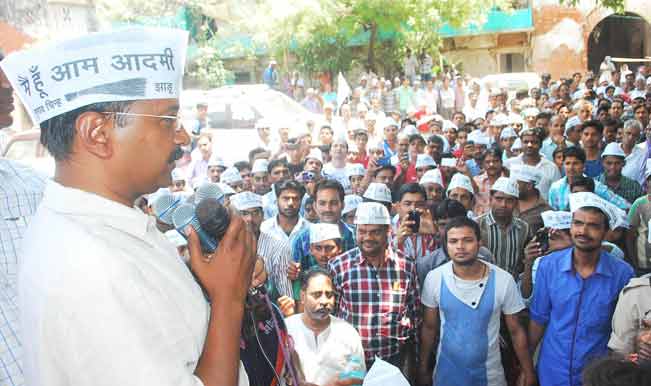 New Delhi, Aug 3 : Preparations by party workers are on in full swing for AAP chief Arvind Kejriwal's rally, scheduled to be held today at Jantar Mantar, New Delhi. Kejriwal will be addressing the rally to question the Bharatiya Janata Party (BJP) for the reason behind delaying assembly elections and denying the people of Delhi their right to elect the government.
Kejriwal had also held a rally on Thursday at the Ramlila Maidan where he had spoken up for the rights of auto rickshaw drivers amid constant fight with the BJP and Lieutenant Governor Najeeb Jung for delaying proposal to end harassment of auto rickshaw drivers by Delhi police and transport officials.
Meanwhile, Congress leader J.P. Aggarwal criticised Kejriwal for running away from his responsibility earlier when he had become the Chief Minister of Delhi but had resigned from his post within 49 days. AAP had also been constantly taking on the BJP for delaying assembly elections in Delhi which is currently serving under governor rule since Kejriwal's resignation as the CM.
AAP had alleged that the BJP will not allow the party to form government in the national capital and are opting for divisive politics. They also alleged that BJP was shamelessly indulging in unethical practices and luring lawmakers to form government in Delhi, which was highly condemnable.
The BJP had won 31 seats in the assembly polls in December last year but its number came down to 28 in the 70-member house after three of its legislators including India's health minister, Harsh Vardhan, were elected to Lower House of the parliament.