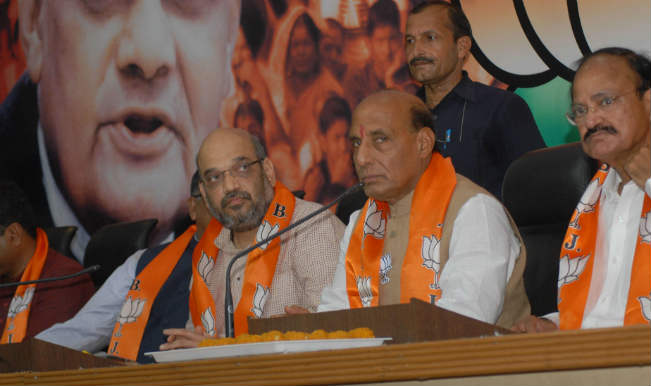 New Delhi, July 9 : Union Home Minister Rajnath Singh congratulated Bharatiya Janata Party (BJP) General Secretary Amit Shah for being appointed as the new BJP president here on Wednesday. He also thanked the party workers for supporting him during his tenure as BJP president.
"I want to thank all party workers for their support during my tenure as BJP National President and appeal to them to take care of Amit Shah now," said Singh. Recalling party's win during 2014 Lok Sabha elections and Appreciating Shah, Singh added, "We are very happy. For the first time in the history of independent India a non congress political party has won clear majority. I am very happy that I am handing over my position to a skilled, talented and capable person."
Earlier today, The BJP had announced that Prime Minister Narendra Modi's close aide and general secretary Amit Shah will take over as the party's new president from previous incumbent and now Union Home Minister Rajnath Singh.