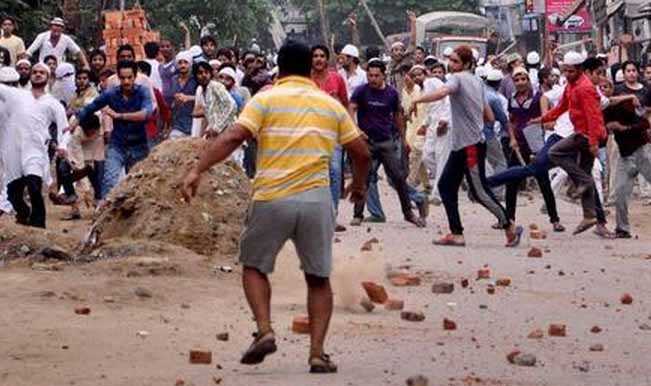 Saharanpur has erupted with communal riots between Muslims and Sikhs in the western Uttar Pradesh city. The clash between the Sikhs and Muslims is over a land dispute and people from both the communities have reacted in a very violent manner on Saturday. There has been a curfew implemented in Saharanpur following the riots with shoot at sight orders given to the police to disperse the rioting crowd to calm the situation.
Is Uttar Pradesh in a nose dive from which it cannot recover? Is the largest state of India spiraling out of control and is the Samajwadi Party government incapable of tending to matters or are they the ones instigating the riots for maintaining a state of unrest?
Twitterati have spoken and they are enraged that such violent clashes can take place while the Uttar Pradesh administration takes such a mind numbingly long time to react and that to unsatisfactorily.
Shoot at sight orders given in the #SaharanpurRiots. It's a good news to stop the dreaded riots between Sikhs and Muslims in #Ramzan.

— Suman Gangopadhyay™ (@sgangopadhyay) July 27, 2014
One hell of a guy this Sardar… reminds me of the man against the Tank in Tianenman Square… pic.twitter.com/he8R3X4M5g

— MediaCrooks (@mediacrooks) July 27, 2014
#SaharanpurRiots has proved secularism is not for minorities but for muslim vote banks.. @BJP4India time to take tough decisions

— Mohit Sethi (@mohit_sethi23) July 27, 2014
Thou fasting muslims threw stones n destroyed properties in #SaharanpurRiots Akhilesh Yadav may arrest victims to score marks in secularism!

— Smita Nayak (@smna17) July 27, 2014
And he single hand , tried to stop the Rioters…. #Respect #SaharanpurRiots pic.twitter.com/HvmWYBCHPu

— Uttar Pradesh (@BJPLucknowBJP) July 27, 2014
Secularism is… when Media ranted for weeks about killing of a Muslim in Pune but is silent on killings of 3 Sikhs in #SaharanpurRiots

— Ankur Singh (@BihariTweeter) July 27, 2014
Whom are you supporting in #SaharanpurRiots ?? 1. Sikh 2. Muslim Trust me nobody will win?? But it's sure that humanity will lose!!

— Chicken Biryani (@ChickenBiryanii) July 27, 2014
It's incredible that for avowed secular Indian media, only one community is perennial victim, no matter logic,data or facts #SaharanpurRiots

— Puneet Banga (@subtlechat) July 27, 2014
#RSS volunteer Harish Kocchar is murdered brutally by Muslims at #SaharanpurRiots. pic.twitter.com/eqhZHOIv3c

— Prashant Patel #HDL (@ippatel) July 26, 2014
16 tweets on Roti incidents but not a single tweet on #SaharanpurRiots by .@ArvindKejriwal & .@AamAadmiParty And you say why i Dislike him

— Rishi Bagree (@rishibagree) July 27, 2014
Local Admin was active last night to destroy evidences in #SaharanpurRiots pic.twitter.com/xdgWvHgO3i

— Uttar Pradesh (@BJPLucknowBJP) July 27, 2014
#SaharanpurRiots are also part of "Acche Din". Now don't get surprised. All of us knew it.

— Vinod Mehta (@DrunkVinodMehta) July 27, 2014
Why no special appearance by Arnab bhaijaan to preach on #SaharanpurRiots ??

— नंदीता ठाकुर (@nanditathhakur) July 27, 2014
Godhra was done at the behest of local Congress leaders & same wd #SaharanpurRiots -again @INCIndia leader involved-a constant in all riots

— Alok Bhatt (@alok_bhatt) July 27, 2014
Breaking: The media sleeps with the rioters and not reporting #SaharanpurRiots Muslims going against the courts order

— Balbir Singh (@balbir59) July 27, 2014
In Pune incident, the techie was reportedly killed for his Muslim appearance. Find out how Harish Kochar was killed in #SaharanpurRiots

— हम भारत के लोग (@India_Policy) July 27, 2014
Sikhs lawfully bought the land decades back from wakf and recently High Court ruled in their favor http://t.co/A9b3ZIwG8X #SaharanpurRiots

— हम भारत के लोग (@India_Policy) July 27, 2014
J&KCM tweeted quickly on shivsena roti hype bt never tweeted on Amaranth clash.Nw I m waiting 4 his tweet on #SaharanpurRiots @HDLindiaOrg

— chetna kaushik (@chetnak) July 27, 2014
#SaharanpurRiots Muslims burnt sikh shops as court decided in their favour4gurudwara land.Neeraj&Harish-names of who died #whereismedia ?

— Ritu4India (@RITURATHAUR) July 27, 2014
This is Secularism for u… reporter doesn't even dare utter Muslims… calls them "Vishesh Samuday" #SaharanpurRiots http://t.co/1jMiU6MWYr

— vande_mataram (@Vande_Mataram) July 26, 2014
All shops of Sikh community burned down by Peaceful Religion of Muslims #SaharanpurRiots pic.twitter.com/2OwCE0BhOx

— Chandan Shukla (@chandan_sh) July 26, 2014
#SaharanpurRiots Uttar Pradesh… ehh na na..Udhham Pradesh.. look at those women.. pelting stones so peacefully! pic.twitter.com/YsV9RjzqLa

— Anshika Agarwal (@Naina_34) July 26, 2014
On 15th anniversary of Kargil #VijayDiwas, we r seeing: 1. Ceasefire violations by Pak 2. #SaharanpurRiots 3. Scams 4. U-Turns #Sad

— Ankit Lal (@ankitlal) July 26, 2014
Muslims r the only minority in any country in the world who run riots against all incl other minorities & majority! #SaharanpurRiots #Jihad

— Indian Shahzada (@SwarupPhD) July 26, 2014
Stringent action should be taken against Saharanpur SP who failed to prevent the violence http://t.co/6nvwhk95uc #SaharanpurRiots

— Aam Aadmi Party (@AamAadmiParty) July 26, 2014
#SaharanpurRiots It's when the court has already made the verdict in favor of Gurdwara Law abiding citizens pic.twitter.com/akQw12bseY

— Expose AAP™ (@ExposeAAP) July 26, 2014
Muslims doing what they're best at. #SaharanpurRiots pic.twitter.com/zl3JMkZ3Rx

— Ramchandani G P (@RamchandaniGP) July 27, 2014
@timesnow Case 3: You are not saying that Muslims attacked Gurudwara in #SaharanpurRiots

— Kishor Barthwal (@kbarthwal) July 27, 2014
@ZionistWolf @iMac_too @dharmanext are these real images from #SaharanpurRiots

— Vishal (@vishalkmumbai) July 27, 2014