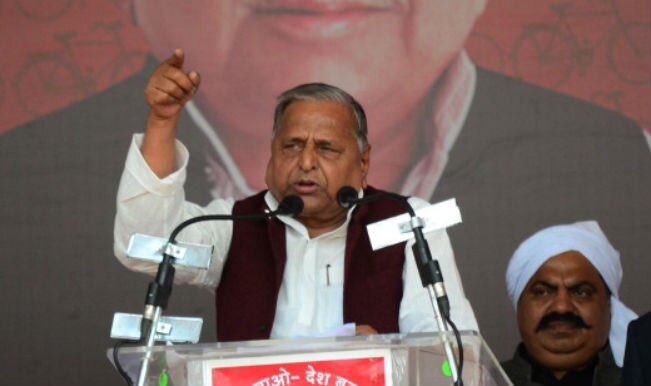 Samajwadi Party chief Mulayam Singh Yadav finds himself in the eye of another storm with his controversial comments on the apparent lawlessness in Uttar Pradesh.
The Yadav patriarch has gone from belligerently defending his son Akhilesh, the chief minister of Uttar Pradesh, to downplaying the crimes. Yadav hit the headlines with his insensitive remarks that "boys will be boys" and argued for revoking of anti-rape laws.
The SP leader has created another furore with his comments about the increase in number of crime against women in the state. "There are 21 crore people in Uttar Pradesh, yet lowest number of rapes," he told reporters when questioned about the brutal rape and murder of a 32-year-old in Lucknow district of the state.
Earlier this year, Yadav had sparked outrage with his comments like "boys are boys, they make mistakes". Pushed into a corner by the increasing number of rapes and murder, often involving gruesome violence, Yadav and Akhilesh have in the past tried to deflect the spotlight by accusing the media of targeting Uttar Pradesh by highlighting rape and violence in the state.
Under intense criticism over the gang-rape and murder of two teen girls in Badaun, Akhilesh had suggested doing a "Google search" to understand that women were raped elsewhere in the country too. "When such incidents occur, it is publicized a lot. Such incidents don't occur only in UP and if I give you statistics across the country you will again ask me questions. It's Google era.
If you go online and check you will see where else such incidents occur", the young chief minister said. Two teenage girls were allegedly gang raped when they went out into a field to relieve themselves on May 27 2014. Their bodies were found the following morning hanging from a tree.
Akhilesh's uncle and senior SP leader Ram Gopal Yadav went a step further and blamed "vulgarity, obscenity and violence shown on TV channels" for the multiple incidents of rape and assault in UP. Akhilesh's comments about media targeting UP were echoed by Ram Gopal, who said, "Uttar Pradesh is being deliberately targeted. Such incidents are happening everywhere".