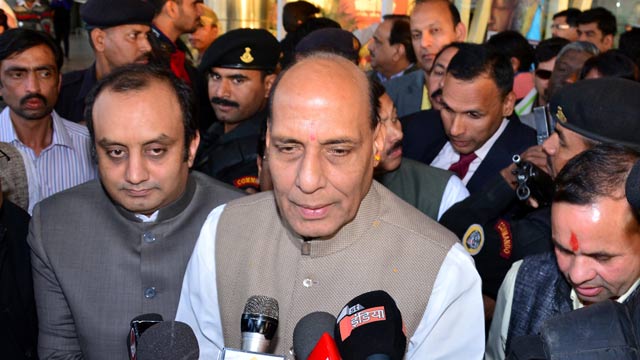 New Delhi, July 20 : Delhi Bharatiya Janata Party (BJP) president Satish Upadhyay met Union Home Minister Rajnath Singh here on Sunday to discuss issues related to the governance and effective working of Delhi Municipal Corporation. Post the meeting, while talking to the media persons, Upadhyay denied allegations that BJP was purposely delaying assembly elections and said that the party is ready for polls.
"Right now we haven't got any such proposal of forming the government but whatever work will be done in Delhi will be done according to the rules of the constitution and the law. When we will get the proposal we will proceed. We are not delaying anything. Some people are putting unnecessary allegations on BJP but when it comes to speaking to the Lieutenant Governor they change their language," said Upadhyay.
He also lashed out at Aam Aadmi Party (AAP) leader Manish Sisodia for being a hypocrite and said that the party is ready for the elections and if the BJP get the opportunity to form the government then also they will first analyze the situation and then give the answer. The Delhi unit of the BJP had said on Thursday that it prefers forming the government in Delhi instead of continuing with president's rule, as the people are facing a lot of problems in the national capital.
The BJP had won 31 seats in the assembly polls in December last year but its number came down to 28 in the 70-member house after three of its legislators including India's health minister, Harsh Vardhan, were elected to Lower House of the parliament. Aam Aadmi Party however had alleged that BJP will not allow the party to form government in the national capital and are opting for divisive politics. It also alleged that BJP was shamelessly indulging in unethical practices and luring lawmakers to form government in Delhi, which was highly condemnable.